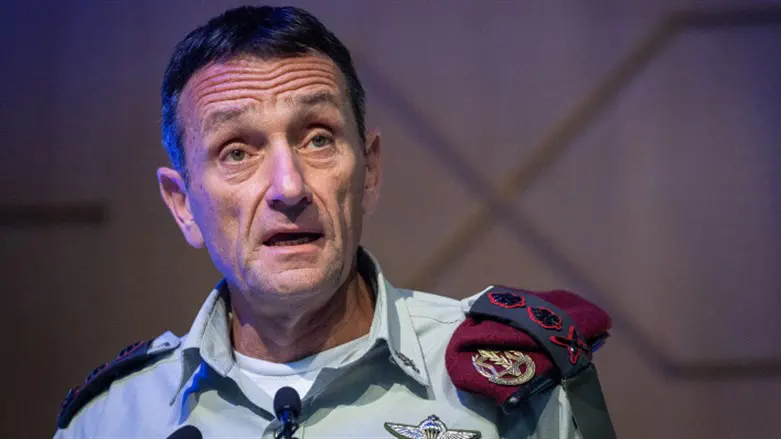 Chief of Staff Herzi Halevi
Yonatan Sindel/Flash90
​​​​​​IDF Chief of Staff Herzi Halevi delivered remarks at an assembly to commemorate the fiftieth year since the Yom Kippur War.
"We stand here today in honor of the soldiers who fought in the Yom Kippur War in 1973, and sanctify the fiftieth year in remembrance, introspection and learning.

"Memory has many faces: from a parent's painful memory of their son who never returned, to the memory of signing a historic peace agreement with a bitter enemy."

"We do this in deep appreciation for their fearless stand on the front line, in memory of the two thousand six hundred and eighty nine (2,689) soldiers who fell in the war, sixteen of whom are buried in an unknown place. We do this in sympathy with the pain of the seven thousand two hundred and fifty one (7,251) wounded and the two hundred and ninety four (294) who were held captive. And we do this for the sake of the soldiers who fought then and all of their family members."

"We learn and teach their stories from the war and what preceded it in order to defend the State of Israel at present and in the future. The IDF of the year 2023 is a strong military with advanced capabilities. Our forces operate successfully in all arenas against a variety of enemies and threats, but our hearts remain heavy."
"On my way out of the National Military Museum in Cairo, I reflected on how our story focuses on looking at the difficulties, investigating the ability to get out of hard situations and seeing how they can be avoided."
"To the Egyptian general who accompanied me, I said: Your casualties were significantly higher than ours and yet, in our story, very differently from yours, there is self-criticism. It's not terrible, I added, that we tell a different story about the war, as long as we know how to tell a common story about the future."
"The Yom Kippur War serves as a living lesson for us regarding the danger of arrogance, the upheaval of strategic surprise and the heavy national price of a perceptual, political and military crisis."
"The sources of our inspiration also come from it: the fighting spirit of the IDF and its resilience, and the mobilization of a society that understands what is at stake, entrusts its security to the hands of the IDF soldiers and its commanders, unites behind them and backs them up. It is impossible not to wonder: can such cohesion exist only given such a threat?"
"We must regard every declaration of our enemies, in words or actions; not to underestimate them, and not to glorify ourselves. We must be more prepared than ever for a multi-arena and extensive military conflict, which will include maneuvering in close contact and high friction with the enemy, which will involve losses and casualties, and where the home front will be on the front line."
"Our enemies may be tempted to see an advantage in the multi-arena threat to us. It is better for them to know that when Israel is threatened, it knows how to mobilize all its resources, put the differences aside - and strike. It was like that in the Yom Kippur War, and it will be like that today, if need be."