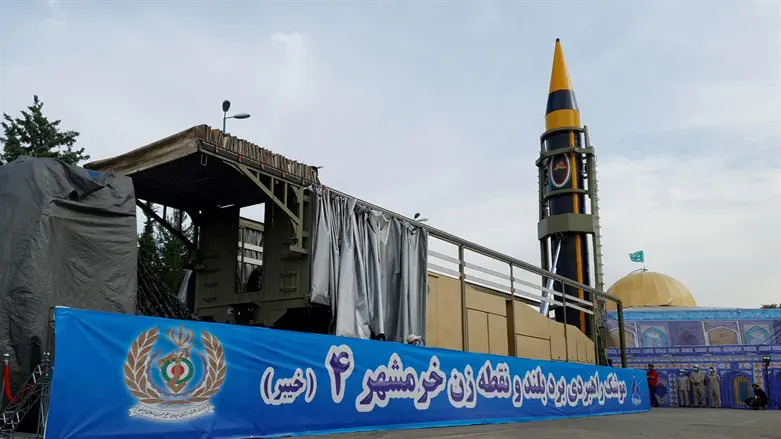 Iranian ballistic missile
WANA (West Asia News Agency) via REUTERS
The deputy commander of the Iranian Revolutionary Guards, Lieutenant-General Abbas Nilpuroshan, announced on Sunday that Tehran is producing a new generation of hypersonic missiles, i24NEWS reports.
Nilpuroshan also commented on tensions with Israel, stressing that "Israel should abandon its air defense systems, as advanced missiles are capable of overcoming them."
In a statement to the Tasnim news agency, he said that advanced missiles can maneuver at a speed of Mach 14-15 and "are capable of defeating the Israeli regime's air defense systems."
"Tehran has precise information on the workings of the Zionist regime," he claimed.
"Israel has claimed to have a system capable of intercepting hypersonic missiles, but this is a bluff and a psychological operation. I say with confidence that Israel's defense systems are outdated compared to the missiles we have developed," stated Nilpuroshan.
He further claimed that "Iran has limited the missile range to 2,000 km in accordance with the order of the Supreme Leader of the Islamic Revolution, Khamenei, while obeying the country's operational doctrines and taking threats into account."
He also stated that Tehran had no problem technologically extending the range of its missiles.
Iran often boasts of its military accomplishments, though it is not always possible to determine with certainty that it is telling the truth about those accomplishments.
In 2017, the Islamic Republic claimed to have unveiled a domestically manufactured tank which "has the capability to fire missiles and precisely guide them."
Previously, Iran's Revolutionary Guard claimed it had successfully tested a Hormuz 2-type ballistic missile.
Iran has also claimed it is in possession of the "father of all bombs", described as a domestically-made 10-ton bomb with a high destructive power.
Last month, Iran said it has the technology to build a supersonic cruise missile. Several weeks later, it launched exercises to test its "electronic warfare" capabilities against mock enemy drones, fighter jets and helicopters.