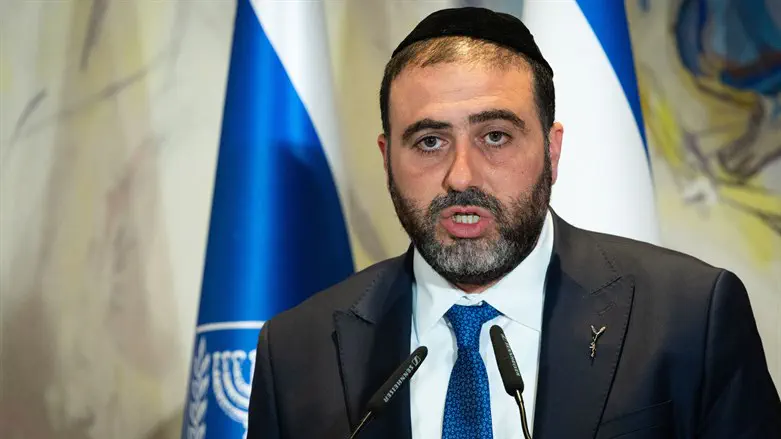 Moshe Arbel
Yonatan Sindel/Flash 90
Health Minister Moshe Arbel on Sunday sent a letter to his Moroccan counterpart and offered his ministry's assistance to Morocco's medical teams in their efforts to save lives, by sending medical personnel and medical equipment to the area which was hit by an earthquake on the weekend.
In the letter he sent to the Moroccan Minister of Health Khalid Ait Taleb, Minister Arbel sent his condolences to the citizens of Morocco following the earthquake and wrote, "I am confident that the health system of the Kingdom of Morocco is capable of meeting the challenges posed by the current state of emergency, and plays a vital role in the kingdom's response to the crisis."
"The growing working relationship between the governments is the basis for our commitment to help each other and overcome challenges together," wrote Minister Arbel, adding that the role of international aid in times of crisis is to remind the importance of global cooperation and the meaning of loyalty between partners in the international framework.
"In this spirit, I reiterate my ministry's willingness to assist and reiterate my condolences to the Kingdom of Morocco," wrote Arbel.
Meanwhile on Sunday, the Israeli PassportCard insurance company dispatched a plane to Morocco to bring dozens of its policyholders back to Israel following the devasting earthquake that killed thousands of people.
The Israeli government and humanitarian aid organizations have pledged to aid Morocco in the aftermath of the earthquake. Magen David Adom and IsraAID, Israel's leading non-governmental humanitarian aid group,
More than 2,000 people were killed in the magnitude 6.8 earthquake. The Foreign Ministry has stated that all Israeli citizens in Morocco have been accounted for.