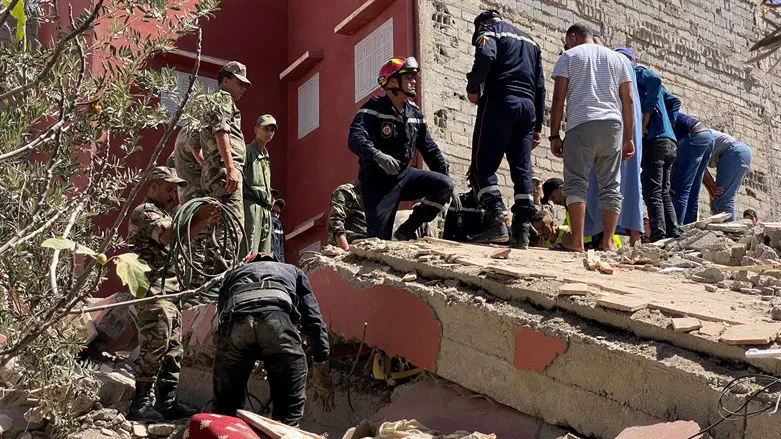 Rescuers carry a search operation following a powerful earthquake, in Amizmiz, i
REUTERS/Abdelhak Balhaki
Magen David Adom, Israel's national emergency system and the country's affiliate to the International Red Cross, announced that it will be sending a delegation to respond to the earthquake that rocked Morocco overnight and is believed to have killed more than 2,000 people.
MDA will send two teams as part of a joint MDA mission with the Israel Defense Forces and Israel's Ministry of Health. One team will set up a field hospital to begin providing medical treatment to the thousands of people injured in the disaster. The second team, headed by Felix Lotan, MDA's head of disaster response, will oversee search and rescue along with the IDF.
Lotan most recently played a similar role in response to the earthquake that devastated south central Turkey earlier this year.
The Israeli relief teams are still on the ground awaiting the green light from the Moroccan government. No foreign relief assistance will be deployed until the Moroccan government gives the go-ahead, MDA officials said.
"We are ready to assist in any lifesaving efforts as soon as the Moroccan authorities are able to accommodate the influx of relief workers," Lotan said. "Given the history and shared interests between Israel and Morocco, we are eager to help.
"As a Red Cross society, MDA feels compelled to provide humanitarian assistance whenever and wherever we can," he said. "We are also acutely aware that, given the seismic activity in our own country, there may come a time when we're going to be the ones needing assistance."
"We are deeply concerned about the current situation," Eli Bin, MDA's director-general, said in an email sent to the president of the Moroccan Red Crescent. "Our thoughts are with you, especially those who have suffered losses… Be assured of the bond of friendship between us, and view this letter as a genuine offer to assist in any manner you find appropriate."
Magen David Adom is Israel's national paramedic service and the country's affiliate to the International Red Cross. A leader in mass-casualty response and in EMS technology, Magen David Adom treats and transports nearly 1 million people to hospitals every year, collects, safety tests, and distributes nearly all the blood to Israel's hospitals, and, through its affiliation with the Red Cross movement, responds to disasters around the world.
The Israeli government and IsraAID, Israel's leading non-governmental humanitarian aid group, have also offered assistance to Morroco following the devastating magnitude 6.8 earthquake.