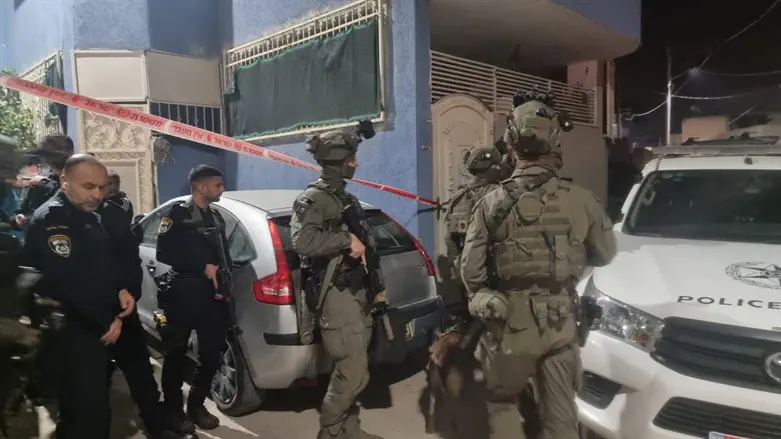 Kafr Qassem
Israel Police spokesperson
IDF soldiers entered the city of Kafr Qassem during Shabbat and clashed with locals. Five residents were injured.The locals said that the soldiers threw stun grenades and claimed that they smashed the headlights of vehicles.
The IDF said that "the entry of soldiers into Kafr Qassem is against the instructions. The incident is being investigated and the conduct of the soldiers will be examined."
The IDF added, "A preliminary investigation shows that during a patrol of the seam fence last night near Azzun, two suspects were identified crossing the fence. The IDF soldiers chased the suspects to Kafr Qassem. Upon the arrival of the forces to the village, several suspects from the village were identified, one of whom was holding a club."
The IDF further said that "subsequently, a confrontation began between some of the suspects and an IDF officer. The officer confiscated the club and used riot dispersal means in order to disperse the gathering. The claim of five injured civilians is being investigated. There are no injuries among our forces."
MK Ahmed Tibi attacked the IDF's response, saying, " There are no injuries among our forces'. Soldiers injured five Arab civilians in Kafr Qassem! This reminds me of the tweet shared by Netanyahu from a few years ago - 'Our forces are operating in Qalansawe.'"
MK Waleed Taha responded and said, "Serious and dangerous. Four soldiers entered the eastern neighborhood inside Kafr Qassem in the middle of the night, without coordination with the local police, throwing a stun grenade in the street, smashing the headlights of vehicles, and brutally attacking five citizens who came out to understand what was happening outside their homes.The attacked citizens were rushed to receive medical treatment, and according to their testimonies the incident could have ended in a real disaster.All the soldiers involved must be prosecuted, and it must be ensured that such dangerous incidents do not occur."
Minister of National Security Itamar Ben Gvir responded at the conclusion of Shabbat and supported the soldiers, saying, "I read the IDF Spokesperson's statement that 'the entry of soldiers into Kafr Qassem is against the instructions' and I am stunned. Is Kafr Qassem an ex-territory in the State of Israel?!".
"I give full support to our heroic soldiers, who, during an operational activity, fulfilled their duty and strived for contact. Our soldiers work night and day with dedication and risk their lives, in order to maintain the safety and lives of the citizens of Israel, and we are obliged to give them full support. Let the IDFwin," he added.