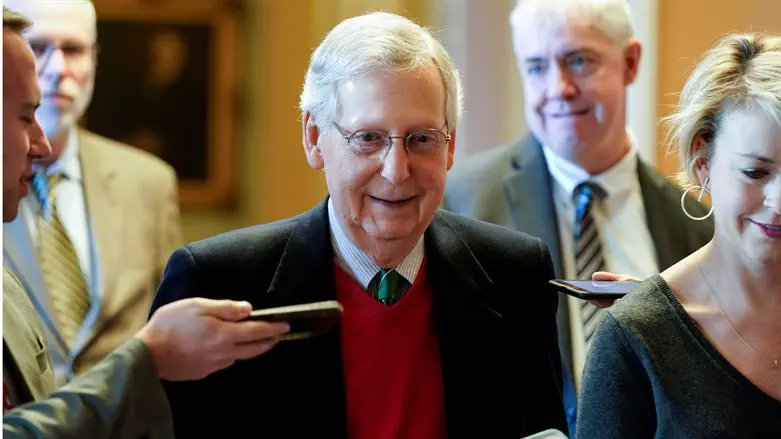 Mitch McConnell
Reuters
Joe Biden recently lent support to Mitch McConnell in the wake of a second episode in which the 81-year-old Republican leader briefly froze while taking questions.
"I'm confident he's going to be back to his old self," the president told reporters.
He dismissed McConnell's struggles since a concussion-inducing fall earlier this year as "part of his recovery."
Why this reply? The last thing Biden — who turns 81 in November — wants is for Republicans to show consistency on the issue of age and public service, particularly when the majority of Americans, includingtwo-thirds of Democrats, agree Biden is too elderly to run again.
Apparently, partisanship sometimes imposes consistency, even in an age of negative partisanship and political expediency.
But the Biden-McConnell comparison is imperfect. McConnell's difficulties stem from a bad fall. And while Biden often appears confused or languid, he has not endured a public episode akin to the McConnell freeze-ups caught on camera.
No evidence indicates McConnell suffered a seizure or stroke, and his allies claim the Senate leader seems like his old self. Moreover, as high-powered as McConnell is, he is not the leader of the free world, nor is he running for a second presidential term. McConnell is merely a critical player among 100 senators and 535 total legislators. Meanwhile, Biden oversees the entire executive branch.
While respected conservative publications like National Review immediately posted an editorial requesting the legendary Kentuckian step-down, many Republicans are comfortable with a wait-and-see approach to McConnell's health. But the consequences of McConnell's fall raise the stakes for Biden.
Falls are dangerous and familiar for the elderly. Having a president stumble away from a debilitating cognitive impairment simply is not reassuring.
The White House knows any spotlight on aging and health is not good politically for them, which is why so much of their spin on the issue falls flat.
Left-leaning NBC anchor Chuck Todd confessed on his latest program that "Every McConnell moment is terrible politics for Biden."
Press Secretary Karine Jean-Pierre contemptuously insists that she and colleagues half the president's age can barely keep up with the octogenarian. Biden has some innate ability to "get things done," thanks to his decades of political experience. I suppose it is the best argument that Team Biden has, but it does not speak to what causes most Democrats to think he's too old to serve another term. Her comments about Biden's vigor evoke laughter from friendly media, given that he's spent nearly half his presidency on personal nights away from the White House and maintains a light schedule.
Politically, the fundamental problem for Biden is that, while many Americans do not necessarily know a lot about the finer points of public policy or the legislative process, they know what someone already past life expectancy looks like when age takes its toll.
"The truth is that Joe Biden, actuarily, is not likely to survive a second term, let alone be compos mentis," Journalist Charles Cooke said on a recent podcast.
The Democrats have no bench and still have only one strong card. They believe that even if Americans think Biden is physically unfit for the presidency, he still can beat Donald Trump because Trump is unfit and unelectable. The bet might pay off, even if it's duplicitous and insulting.
Ari J. Kaufman is a correspondent for U.S. newspapers and magazines in Minnesota, Ohio to Tennessee and Virginia. He taught school and served as a military historian before beginning his journalism career. He is the author of three books and a frequent guest on radio programs and contributes to Israel National News and The Lid