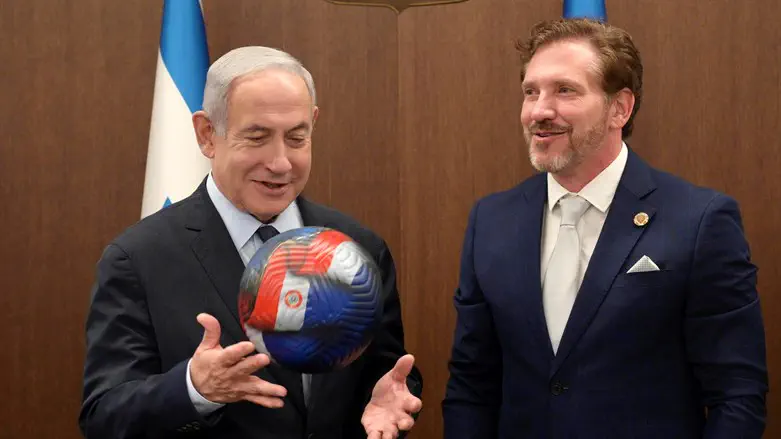 Netanyahu and CONMEBOL President Alejandro Dominguez
Photo: Amos Ben Gershom/GPO
Prime Minister Benjamin Netanyahu met on Thursday, at the Prime Minister's Office in Jerusalem, with South American Football Confederation (CONMEBOL) President and FIFA Vice President Alejandro Dominguez and members of his delegation, together with Israel Football Association (IFA) President Moshe Shino Zuares and IFA CEO Niv Goldstein.
Netanyahu commended CONMEBOL President and his delegation for coming to Israel and said that he was pleased about the agreement to expand cooperation between the IFA and CONMEBOL.
CONMEBOL President and FIFA Vice President Dominguez told the Prime Minister that he had agreed on the arrival of the Argentinian national team, including Lionel Messi, and its youth team for friendly exhibition games in Israel and added that IFA President Zuares and his Argentinian counterpart, Claudio Tapia, would coordinate on the dates for the emotional matches.
Messi and the Argentinian national soccer team were scheduled to play a friendly match against the Israeli national team in Jerusalem in 2017, but the Argentinian team ultimately cancelled the game, citing threats against Messi as the reason for the cancellation.
During Thursday's meeting, Prime Minister Netanyahu spoke by telephone with Paraguayan President Santiago Peña, who recently announced that he will inaugurate his country's embassy in Jerusalem in the coming months.
"I was very happy to hear about your decision on the embassy. But also I'd very much like to talk to you about strengthening even further our ties between Paraguay and Israel. I look forward to receiving you in Jerusalem, in the reconstituted embassy and at the UN," said Netanyahu.