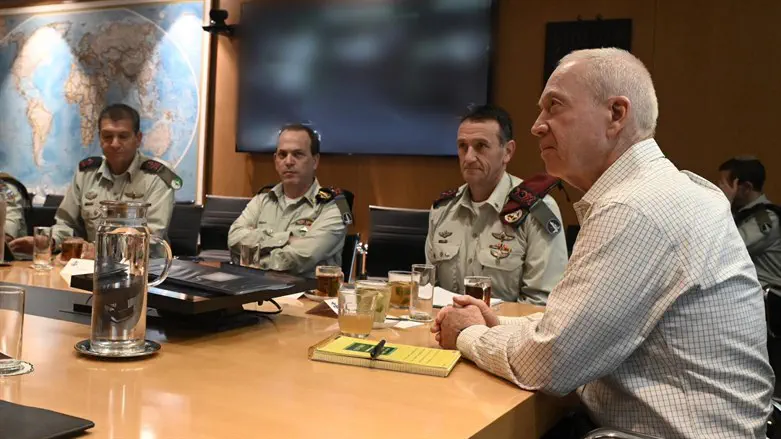 Yoav Gallant during the situational assessment
Ariel Hermoni, Ministry of Defense
Minister of Defense Yoav Gallant held a situational assessment on Thursday to discuss the defense establishment preparations ahead of the Jewish holiday season, which begins next Friday with the Jewish New Year.
The discussion, which took place at the Defense Minister's office at the Kirya base in Tel Aviv, was attended by IDF Chief of Staff Herzi Halevi, the deputy director of the Shin Bet, the head of the IDF Operation Directorate Maj. Gen. Oded Basiuk, Head of the Military Intelligence Directorate, Maj. Gen. Aharon Haliva, Coordinator of Government Activities in the Territories, Maj. Gen. Ghassan Alian and additional defense establishment officials.
Minister Gallant emphasized that the security forces were prepared to face any threat. "We are in a complex time on all fronts, especially in Judea, Samaria, and around Jerusalem. To make sure that the citizens of Israel spend the holiday period safely, the defense establishment is on standby, with intelligence, protecting roads and communities, and operations to stop terror operatives.
My message to the defense establishment is clear: We must protect the citizens of Israel. Now there will be those who try to harm us under the aegis of the holidays. We will act against terror through defensive action, and if we need offensive action, we will do so overwhelmingly. I suggest to the terrorists - in Judea and Samaria, in Gaza, in Lebanon, and anywhere else, don't test us."