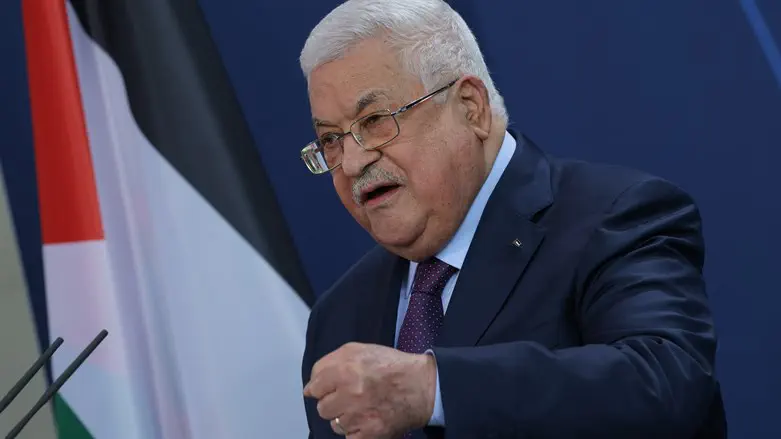 Palestinian Authority Chaiman Mahmoud Abbas speaks to the media in Berlin, Aug
Sean Gallup/Getty Images
US Special Envoy to Monitor and Combat Antisemitism (SEAS) Amb. Deborah E. Lipstadt today (Thursday) condemned Palestinian Authority chairman Mahmoud Abbas' claims that Adolf Hitler only killed Jews "because they dealt in usury and money."
"I am appalled by President Abbas' hateful, antisemitic remarks at a recent Fatah meeting. The speech maligned the Jewish people, distorted the Holocaust, and misrepresented the tragic exodus of Jews from Arab countries. I condemn these statements and urge an immediate apology," Ambassador Lipstadt wrote on X (formerly Twitter).
In his speech, Abbas said, "They say that Hitler killed them because of their Jewishness. Not so. They (the Nazis) fought them because of their social role and not because of their religion."
Abbas has a long history of Holocaust denial and antisemitic conspiracy theories. Many times, he has claimed that Ashkenazic Jews are not really Jews and promoted the debunked Khazar lineage theory.
In 2015, in a speech in which he peddled the Khazar myth and claimed that Soviet leader Joseph Stalin was Jewish, Abbas stated: "The hatred of the Jews is not due to their religion, but rather due to their social role. If so, it's a different issue. And therefore, the Jewish problem that was common in all of the states of Europe against the Jews was not due to their religion, but rather due to their social role that was connected to usury, and banks, and so forth."
In another speech in 2018, Abbas again promoted the Khazar myth and said: "They say that Hitler killed the Jews for being Jews, and that Europe hated the Jews because they were Jews. "Not true. It was clearly explained that [the Europeans] fought [the Jews] because of their social role, and not their religion. Several authors wrote about this. Even Karl Marx said this was not true. He said that the enmity was not directed at Judaism as a religion, but to Judaism for is social role. They fought against these people because of their role in society, which had to do with usury, money, and so on and so forth. Even Hitler."
Abbas' doctoral thesis, which he published in the Soviet Union in 1982, peddled conspiracy theories alleging Zionist cooperation with Nazi Germany and claimed that Zionists exaggerated the number of Holocaust victims and that the true death toll was about one million instead of six million.