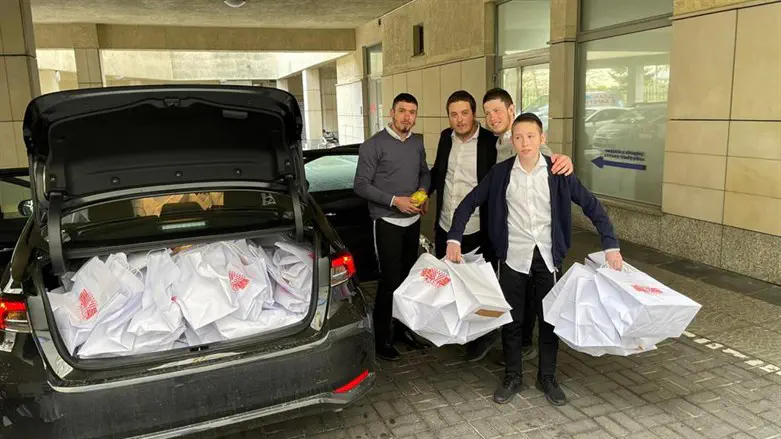 Preparing Rosh Hashanah packages for distribution in Ukraine
Courtesy of Chabad of Poland
As Jews across the world begin to prepare for the High Holidays, Chabad of Poland has begun to coordinate holiday food preparation at a record scale of more than 5,000 meals and food packages to help Polish and Ukrainian Jews to help celebrate Rosh Hashanah.
In Warsaw, Chabad of Poland will mark the Jewish New Year by bringing together hundreds of Jews – local community members and displaced Ukrainian refugees alike – for communal prayer, meals and special celebrations.
In addition to Chabad of Poland's staff, 10 rabbinic interns, all currently studying in Israel, are joining the community for the holiday to help lead prayer services as well as blow shofar, the traditional ram's horn sounded during Rosh Hashanah and Yom Kippur, at Chabad of Poland's synagogue in Warsaw on Słomińskiego Street, at an additional ballroom rented to accommodate the influx of Jews in Warsaw over the holiday, and in six satellite locations throughout the city, including its prison. Rosh Hashanah begins at sundown on September 15, and ends the evening of September 17.
Preparing for the holiday, Chabad of Poland has already purchased thousands of apples and jars of honey and is in the process of baking thousands of challahs all to be served in Warsaw and packed for distribution in Ukraine. Thousands of servings of chicken, fish, kiddush wine, and other symbolic holiday foods are on order, to help Jews in Poland and Ukraine celebrate the holiday.
Thus far, more than 700 Jews from across the world have already partnered with Chabad of Poland to help support the high holiday's initiative, and additional funds are still required in the hopes of serving even more people.
"Our sages teach us that on Rosh Hashanah, the heavenly courts sit in review and judgement of our actions the prior year, and through that sets the course for upcoming one. From already a month before the 'hearing' we self-audit our actions, apologize to G-d through prayer and in-person to those we might have wronged, give more focus to our own religious practice and give more charity- of time and action," said Chabad of Poland Director Rabbi Sholom Ber Stambler. "The entire goal of the period leading up to the holiday is to show G-d we want to do better, so that He judges us more favorably, and so that He inscribes us in the book of life, health, wealth and all things good."
"At the climax of the holiday prayers we cry out 'that repentance, prayer and charity hold the key to reversing harsh decrees,'" added Chabad of Poland Co-Director Rabbi Mayer Stambler. "For over 18 months since Russia's incursion into Ukraine, we've partnered with Klal Yisrael, as emissaries on the ground in Poland, to help tens of thousands of Jews still in Ukraine and those fleeing. Once again, as the holidays approach, we turn to our partners to help us bring yom tov to our brothers and sisters in Poland and Ukraine. Let's together do for them the charity we hope Hashem will do for us on Rosh Hashanah."