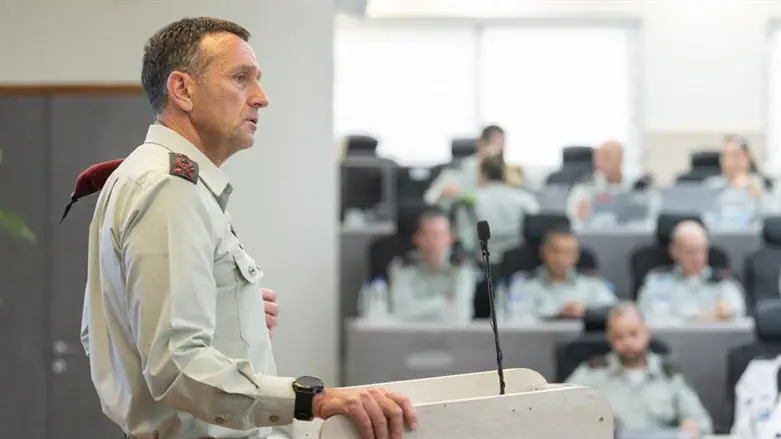 Herzi Halevi
IDF Spokesperson
IDF Chief of Staff Herzi Halevi on Wednesday discussed the phenomenon of young people refusing enlistment and hinted at the possible legislation that would blanketly exempt haredim from the draft.
"There is a lively debate on the place of a military of the people. I wish to answer those questions. The state of Israel is obligated, for her security, to continue to uphold the model of the military of the people. This model obligates the enlistment of as many parts of the Israeli population as possible," Halevi stated at the "Adopt a Warrior" ceremony.
According to him, "With the proper adjustments, there is room, and there is a way to implement this for the developing Israeli society. Our stance is clear: enlistment for all. For 75 years - that is the secret of the IDF's strength. Especially during days of dispute in Israeli society, the IDF is the unifying solution, and there is a place for everyone."
The Chief of Staff clarified, "To the young people who are considering not enlisting, the answer is clear, we will live here, in the state of Israel, forever. For that, we need to protect. Anyone who is considering not enlisting should ask themselves what would happen if everyone would act like them. In days of dispute, as difficult as it may be, we may get lost. The IDF is the right place to be. The goal is principled and proper, and the path is clear."
Later in his address, he discussed the attacks on the IDF by politicians: "In days of dispute, facing those voices outside the military who are trying to influence the IDF, voices that are not trusted with security and don't bear responsibility for it, we in the IDF do not pick sides. We have the unwavering responsibility for the IDF's competency and the unity of its troops. Not only today but for many years ahead."
He added: "We oppose any use of the uniform in the dispute, in enlisted service and reserves service, the uniform is the same uniform. The IDF always chooses to protect the country. In any situation, against any enemy, against every challenge. With determination and without condition."