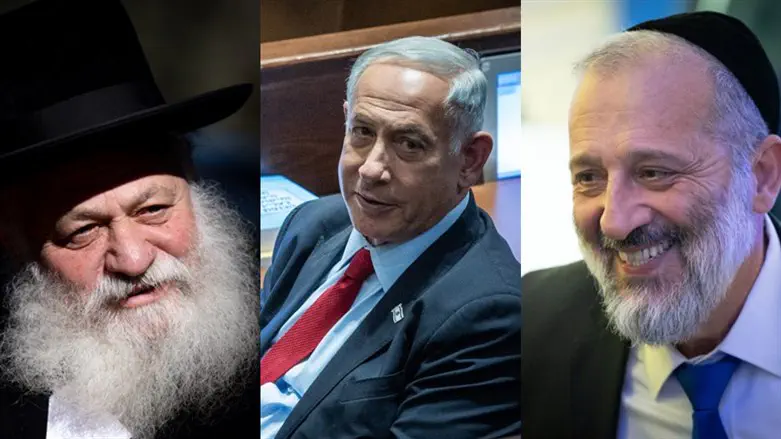 Yitzhak Goldknopf (L) of Agudat Yisrael, PM Netanyahu (C), and Aryeh Deri of Shas (R)
Yonatan Sindel/Flash90
Senior officials in the haredi parties have recently told Israeli Prime Minister Benjamin Netanyahu that they do not intend to make additional compromises on the Draft Law, nor are they willing to tolerate further delays, Israel Hayom reported.
According to the report, a senior source in the haredi parties said, "We are not interested in whether or not there will be a reform - on the Draft Law, we will not compromise."
On Wednesday, Netanyahu will hold a meeting with the Defense and Finance ministers, to discuss the proposal to significantly raise the salaries of those who serve in the army. If passed, the bill would raise combat soldiers' salaries to around minimum wage.
This move, however, would require another ten billion NIS for the army's budget; Finance Minister Bezalel Smotrich (Religious Zionism) has agreed to about half that sum.
Defense Minister Yoav Gallant (Likud) and professional sources believe that raising soldiers' salaries will also tip haredim who are on the fence towards serving in the IDF.