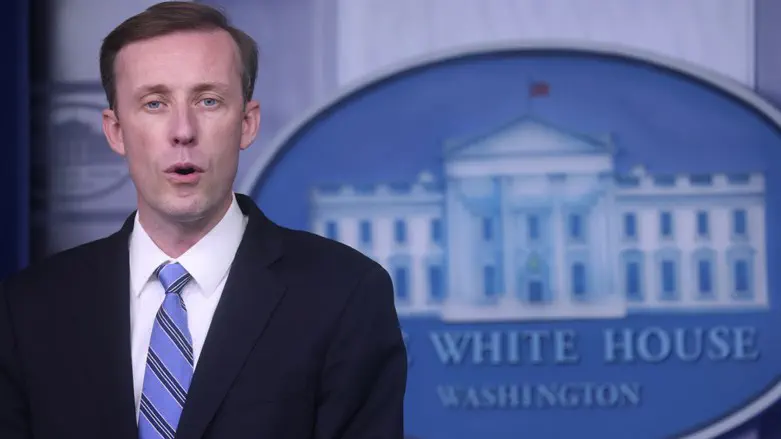 US National Security Advisor Jake Sullivan
REUTERS/Leah Millis
US National Security Adviser Jake Sullivan said on Tuesday there was no imminent breakthrough for a normalization deal between Israel and Saudi Arabia.
Sullivan's comments came during a press briefing. He had been asked about phone calls that Secretary of State Antony Blinken made earlier in the day to Prime Minister Benjamin Netanyahu and Palestinian Authority (PA) chairman Mahmoud Abbas, and whether those calls meant steps towards normalization between Israel and Saudi Arabia were forthcoming.
"With respect to Secretary Blinken's calls, I wouldn't describe them as 'run of the mill' or 'routine.' He speaks with these leaders occasionally, but not every month. But it also does not portend any imminent breakthrough or action with respect to the question of normalization," replied Sullivan.
"It's an important moment for a check-in at a high level, and Secretary Blinken is well poised to do that, given his relationships with both men and the central role that he is playing in efforts to explore whether in fact a broader normalization is possible," he continued, before adding, "But beyond that, I won't characterize the call."
Sullivan also commented on the visit of White House envoy Brett McGurk to Riyadh, where he will meet a Palestinian Authority negotiation team.
He said that McGurk's trip will be "focused on a set of broader regional issues", including the war in Yemen.
"And then, of course, he will speak to the Palestinians about the whole range of issues relative to the Israeli-Palestinian file," continued Sullivan.
"Normalization will be one of the topics on the agenda, but it's not the main thrust of this trip. And like I said before, with respect to the phone call Secretary Blinken made today, we don't expect any imminent announcements or breakthroughs in the period ahead," he explained.
A recent report indicated that the United States and Saudi Arabia have agreed on the broad outlines of a deal for Saudi Arabia to recognize Israel in exchange for concessions to the Palestinian Arabs.
Saudi officials have repeatedly said that a Palestinian state with eastern Jerusalem as its capital is a prerequisite for Saudi Arabia normalizing ties with Israel.
As part of the process, The Wall Street Journal reported last week that Saudi Arabia is offering to resume financial support to the Palestinian Authority which it had frozen in 2021.