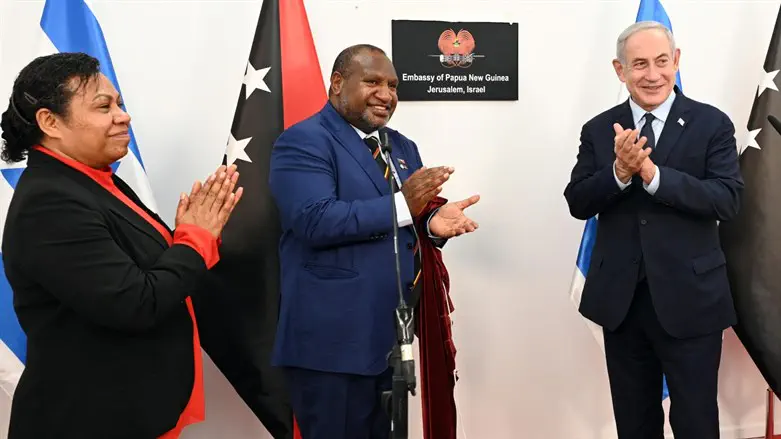 Ddeication of the embassy
Haim Tzach/GPO
With Prime Minister Benjamin Netanyahu, Papua New Guinea Prime Minister James Marape, Foreign Minister Eli Cohen, Jerusalem Mayor Moshe Lion, and a delegation of senior ministers from Papua New Guinea – who came specially for the occasion – in attendance, the Embassy of Papua New Guinea was dedicated today (Tuesday, 5 September 2023) in Jerusalem, the capital of Israel.
Prime Minister Netanyahu commented: "I was very moved when I heard your anthem. I heard the words 'prayer' and 'hope'. Much of the origin of this prayer was in this city, and as you correctly said, it's been our capital for the last three thousand years. This is where so much of our heritage emerged from. This is where our values were forged. This is where our prophets prophesied. This is where so many of the eternal values that we hold dear were created and disseminated to the people of Israel, and from there to all humanity.
"So I think it's fitting that a state and a people so deeply committed to these values do what you just did – that is open an embassy in Jerusalem, the first Asian-Pacific country to do so. And we're very proud and very appreciative of that fact."
"Secondly, I want to say that this will not only enable us to cherish the past, but also to seize the future. I'm impressed by the great potential that you have and you are building in Papua New Guinea. Papua New Guinea is a big country with big opportunities. And I think that the fact that you have an embassy here will enable us to realize all these potentials – in agriculture and in water and in technology and in health and enterprise."
Minister of Foreign Affairs Eli Cohen commented: "Strengthening the international status of Jerusalem strengthens the international status of the State of Israel."
"I commend the government of Papua New Guinea for the important decision to establish their embassy in the city of Jerusalem, the capital of Israel. The decision will strengthen and deepen the relationship between Israel and Papua New Guinea, which has proven itself a true friend of Israel in the international arena as well."
"Opening the Papua New Guinea embassy draws us another step closer to the goal we set at the Ministry of Foreign Affairs of having 100 embassies in Israel and doubling the number of representations in our capital Jerusalem."
"The Ministry of Foreign Affairs will continue to work in order to prove the value of Israel to the world and to advance cooperation with countries on the basis of our high capabilities in innovation, economic matters, and science."
In the course of his visit to Israel, Papua New Guinea Prime Minister James Marape met with Prime Minister Benjamin Netanyahu and Minister of Foreign Affairs Eli Cohen and discussed bilateral relations with them. The sides expressed their desire to expand cooperation between the two countries in a range of areas, especially advanced agriculture.