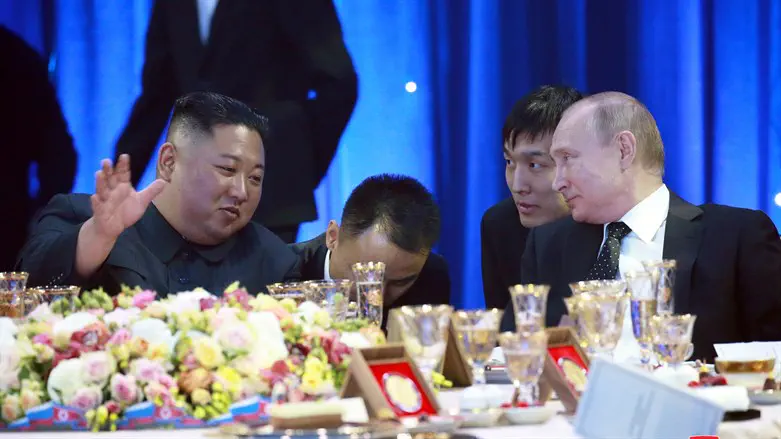 Kim Jong Un and Vladimir Putin
KCNA via REUTERS
North Korean leader Kim Jong Un expects to engage with Russia's President Vladimir Putin in Russia to continue actively advancing arms negotiations between the two countries, the US government said on Monday.
"We have information that Kim Jong Un expects these discussions to continue, to include leader-level diplomatic engagement in Russia," said National Security Council spokesperson Adrienne Watson of ongoing arms negotiations between Russia and North Korea, as quoted by CNN.
Watson did not say when and where a potential meeting between Kim and Putin in Russia might take place, but it would follow Russian Defense Minister Sergei Shoigu's visit to North Korea in July and comes after US officials last week said that the two countries are "actively advancing" their negotiations over another potential arms deal that could see Pyongyang providing weaponry to support Russia's war effort in Ukraine.
The Shoigu visit was made "to try to convince Pyongyang to sell artillery ammunition to Russia," Watson said.
"We urge the DPRK to cease its arms negotiations with Russia and abide by the public commitments that Pyongyang has made to not provide or sell arms to Russia," she added.
Since that trip another group of Russian officials traveled to Pyongyang for follow-on discussions, NSC strategic communications coordinator John Kirby said last week. Putin and Kim have also have exchanged letters pledging to increase their bilateral cooperation, he added.
The New York Times first reported the potential meeting in Russia, saying it is expected to take place this month.
Last December, Kirby said that the White has evidence that North Korea shipped artillery rockets and missiles to a Russian private military group a month earlier.
In February, the Biden administration warned that Russia continues to clandestinely purchase chips and advanced technology from foreign sources, including Iran, North Korea and China.
Russia is already known to have received drones from Iran for use in its war against Ukraine.
In June, a US intelligence finding said that Iran is providing Russia with materials to build a drone manufacturing plant east of Moscow as the Kremlin looks to lock in a steady supply of weaponry for its ongoing invasion of Ukraine.
According to a recent Washington Post report, Russia is also preparing, with the help of Iran, to produce more than 6,000 attack drones by 2025.