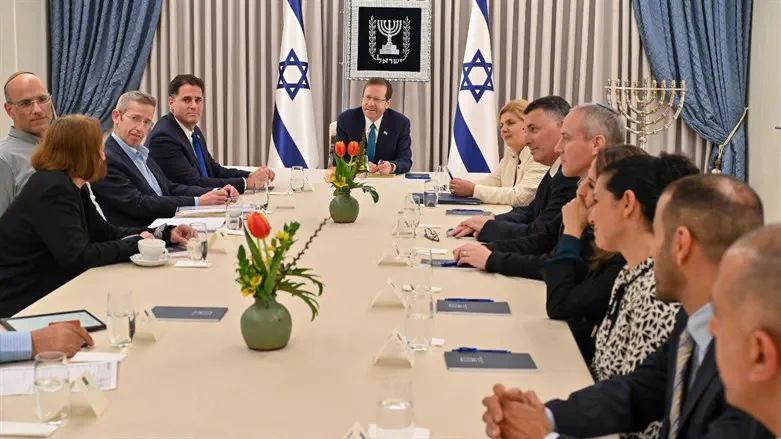 negotiations at President's Residence
Kobi Gideon/GPO
The negotiations at the President's Residence between the coalition and opposition on the judicial reform issue resumed during the Knesset's summer recess, Channel 12 News reported Monday evening.
Prime Minister Benjamin Netanyahu announced the suspension of the judicial reform legislation in March to allow for negotiations to be held under the auspices of President Isaac Herzog. The opposition walked away from the negotiations in early June in protest against the coalition's refusal to appoint a representative to the Judicial Selection Committee so that the committee could begin its work.
The recent contacts between the two sides follow the passage of the Reasonableness Standard law on June 24 ahead of the Supreme Court's hearing on the petitions against the bill. According to the report, the latest negotiations focused on softening the Reasonableness Standard bill.
In addition, the sides discussed freezing the coalition's efforts to change the composition of the Judicial Selection Committee and other aspects of the judicial reforms for 18 months.
The President's Residence said in response to the report that "in recent weeks, the President of the State has been making a special effort to prevent a constitutional crisis and bring about a solution that will preserve democracy and the unity of the people in Israel."
"As part of these efforts, the President is holding talks with the heads of the coalition and the opposition in order to bring about a dialogue that will lead to broad agreements. It will be emphasized that no agreements have yet been reached and the president will continue his efforts."
Likud responded to the report and said that "the publications are not true and there was no agreement."