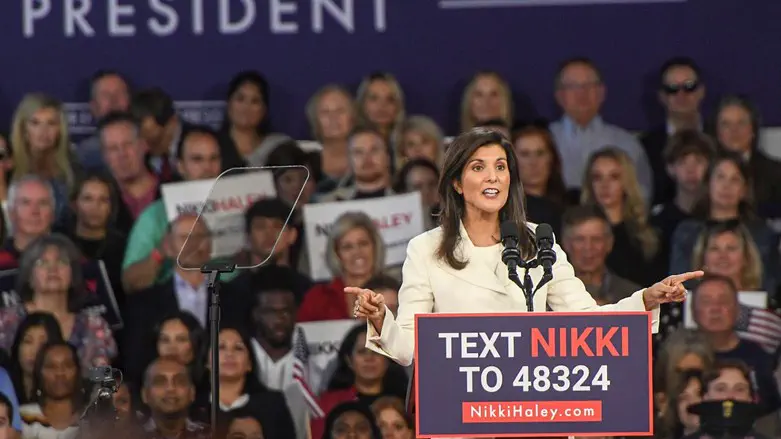 Nikki Haley announces presidential run
Reuters / USA Today Network
2024 Republican presidential candidate Nikki Haley on Sunday called for a "younger generation" of congressional leaders following the second time in recent weeks that Senate Minority Leader Mitch McConnell (R-KY) appeared to freeze up while addressing reporters, The Hill reports.
In an interview on CBS News' "Face the Nation," Haley reiterated her position in support of term limits and mental competency tests for elected officials over a certain age and stressed that the issue applies to both parties, mentioning McConnell alongside other seasoned Democratic leaders.
"At what point do they get it's time to leave? They need to let a younger generation take over. We want to go and start working for our kids to make sure we have a strong national security, to make sure we have a stronger economic policy, to make sure that America is safe. And we can't do that if these individuals refuse to give up power," Haley said.
"This is not just a Republican or Democrat problem. This is a congressional problem. And they've got to know when to leave. It is time to pass this down to a new generation of conservative leaders that want to take our country to a better place," she continued.
Asked whether she thinks GOP senators should discuss a replacement for McConnell when senators return from August recess this week, Haley avoided answering directly, instead stressing the fact that the issue applies to both parties.
"I want this for Republicans and Democrats. I want to make sure that they all know it's time to go. There is a reason the American people want term limits. It's because they don't want people staying there forever. They don't want people drunk on the power. They don't want people to think they're the only ones that know how to run Congress," she said.
"We need people at the top of their game. We have too many issues on the table that need to be dealt with. We can't continue to have these people who think they know better than the American people. The American people are saying it is time to go," Haley added.
Haley has long advocated for mental competency tests for older lawmakers. In February, she took a swipe at Senator Bernie Sanders, saying that he was "exactly the reason we need it."
The comments came after Sanders, 81, said that Haley's plan to test the mental acuity of politicians over the age of 75 was "nothing more than old-fashioned ageism" and "not acceptable."
Much has been made of the age of President Joe Biden, who is 80 and would be 86 years old at the end of a second term. Haley warned recently that a vote for Biden is a vote for Vice President Kamala Harris, because Biden is unlikely to "make it" to 86.
Biden recently said that his decision to run for reelection in 2024 was not an automatic one, and added that it is legitimate to bring up his age as he seeks another term.
Former US Secretary of State Hillary Clinton has also weighed in on concerns surrounding Biden's age, saying it's a legitimate issue and "people have every right to consider it".