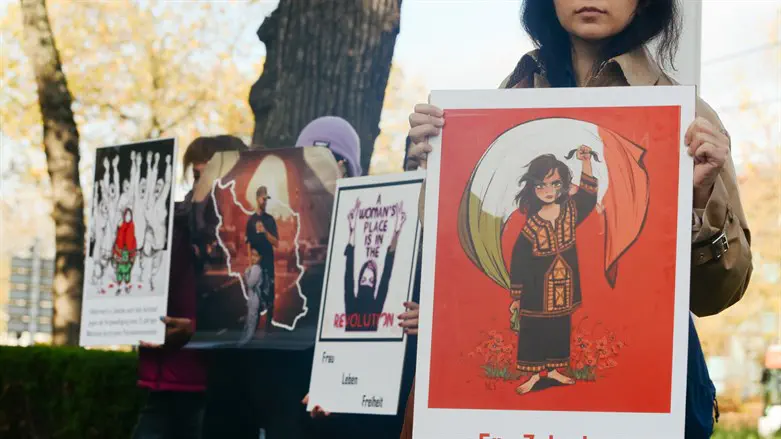 Iranian protests
REUTERS
Two female Iranian journalists will spend around a month behind bars as part of a three-year partly suspended prison sentence for "conspiracy" and "collusion", AFP reported on Sunday, citing local media.
Under the sentence, Negin Bagheri and Elnaz Mohammadi will serve one-fortieth of the term, or less than a month, in prison, their lawyer Amir Raisian told the reformist Ham Mihan daily newspaper, where Mohammadi works.
"The remaining period is suspended over five years," during which time they will be required to take "a professional ethics training" and "prohibited from leaving the country," the lawyer explained.
Raisian did not elaborate on whether the verdict can be appealed, and the report did not detail the allegations against the reporters.
Mohammadi's sister, Elahe, who also works for Ham Mihan, has been in prison since September 2022 after reporting on the funeral of Mahsa Amini, 22, who died while in police custody over allegedly breaching the country's dress code.
Amini's death triggering months-long nationwide protests. A government crackdown on the demonstrations resulted in hundreds of people being killed, including dozens of security personnel, and thousands arrested.
Foreign-based rights groups have reported multiple arrests ahead of the anniversary of Amini's death.
Bagheri works for the unaffiliated Haft-e Sobh newspaper.
Iran in the past year has also cracked down on journalists who reported about Amini's case. Iranian authorities have questioned or arrested over 90 journalists since the nationwide protests last year.
The protests largely died down earlier this year following the crackdown. In July, Iranian authorities announced a new campaign to force women to wear the Islamic headscarf. Following the announcement, morality police returned to the streets.
In April, Iranian authorities announced that cameras would be installed in public places and thoroughfares to identify and penalize unveiled women.