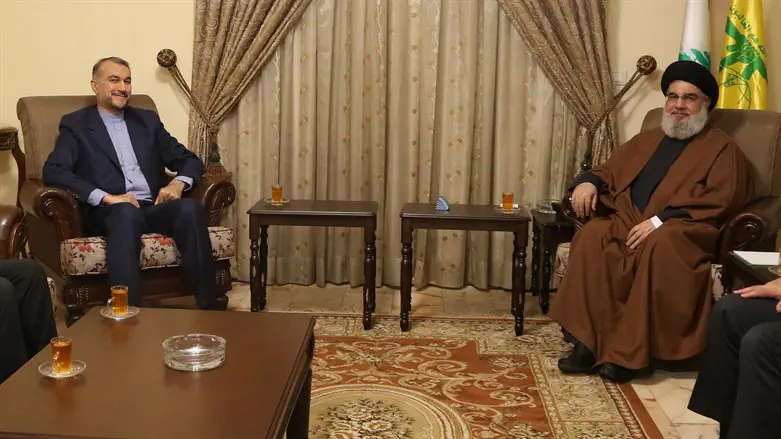 Hassan Nasrallah meets Iranian Foreign Minister Hossein Amir-Abdollahian. Archive
Hezbollah Media Office/Handout via REUTERS
Iranian Foreign Minister Hossein Amir Abdollahian visited Lebanon on Friday, where he met with Hezbollah Secretary General Hassan Nasrallah.
According to Hezbollah spokesperson, Nasrallah and the Iranian FM discussed the latest developments in Lebanon and the region.
The statement added that Amir Abdollahian was accompanied by the Iranian Ambassador to Lebanon, Mujtaba Amani.
The top Iranian diplomat arrived in Beirut on Thursday after a two-day visit to Syria.
Abdollahian also met with the leaders of the Hamas and the Islamic Jihad terror organizations.
According to the Islamic Republic-affiliated Press TV, the sides emphasized the need for the "liberation of Palestine from Israeli occupation."
Palestinian officials said they considered resistance a strategic option for the Palestinian nation.
"There will be no retreat from the resistance's operations in the West Bank," they said, calling the operations a "priority."
The Iranian official's meeting comes amid growing tensions on the Israel-Lebanon border. On Thursday, the United Nations Security Council renewed the mandate for UNIFIL, its peacekeeping force in Lebanon, for another year after tense debate around the troops' freedom of movement.