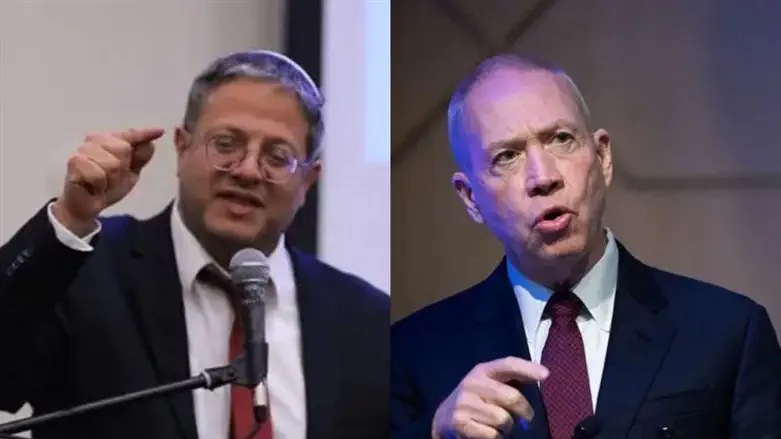 Mins. Gallant and Ben Gvir
Flash 90 Yoav Zindel
"Minister Gallant stated following a recent terrorist murder by cold-blooded shooting of kindergarten teacher Batsheva Nigri, "On behalf of Israel's defense establishment, I would like to send my sincere condolences to the families of those who were murdered [in the terror attack that took place today]. It is important to understand the significant change that is taking place on the ground - it is related to Iranian funding and to the proliferation of weapons under the Iranian directive. Iran seeks every means to harm the citizens of Israel. We will reach the terrorists, and we will take additional action in order to ensure the security of Israel's citizens while exacting a price from those responsible for any harm.""
Is he kidding?! Iran has been funding Palestinian Arab terrorism and war for years, long before the recent slaying of Batsheva Nigri, Hy"d (acronym for: may G-d avenge her blood). Iran and others, including US leaders using our American tax dollars, supply the money and materiel for the PA to foment incitement, endorse and organzie terror attacks and wage war against our fellow Jews in Israel, r"l.
Every Israeli politician and official has known this forever but RATHER THAN ADMIT IT AND REVERSE THE SENSELESS POLICIES THAT KEEP THESE ANTI-SEMITIES IN OPERATION, THEY LOOK AWAY AND LEAVE EVERY JEWISH LIFE IN DANGER!
The same insanity goes for facilitating the transfer of millions of Qatari cash into Gaza to support Hamas and the other agents of evil ensconced there - another unforgiveable outcome of the Disengagment from Gush Katif!
When will Israeli leaders finally heed the Lubavitcher Rebbe's call to put all diplomatic considerations aside and prioritze, first and foremost, the safety and welfare of Jews living in the Land of Israel?
Israel's enemies must be made to lay down their weapons or face being eliminated without mercy. Governments that support Israel's enemies - especially those that claim they are only sending "humanitarian aid", must be told in no uncertain terms that the State of Israel will no longer open the door for their money and goods to come in, if at all, without full Israeli control over its distribution.
Prime Minister Netanyahu must immediately and publicly abandon any thought of granting the favors he announced in July to bolster the Palestinian Authority's standing which included:

-A new industrial zone;

An underwater natural gas reservoir off the coast of Gaza at Israeli taxpayers' expense;
-Deferred or dropped altogether long overdue payments owed Israeli utilities such as electric, water, gas and Internet.
-Expanded operating hours at the Allenby Crossing, located near Yericho in the Jordan Valley - a concession given last summer to visiting best friend President Joe Biden who pressured former PM Lapid into consenting to open the bridge 24/5.

-Biometric passports for PA VIPs.
Moreover, any plan to grant these favors or more - like a Palestinian Arab state - in order to cut an Abraham Accords deal with Saudi Arabia must be protested in the strongest terms.
The Lubavitcher Rebbe said that when Jewish lives are in danger, we must bang our fist on the table and scream until the danger is no longer a threat.

Finally, Israel must stop harassing Jews who defend themselves against terrorists. The recent arrest of Yehiel Indor for shooting a terrorist to save his life followed by the Police and the Shin Bet pulling him from the hospital a week later while he was still recovering from his head wound and submitting endless petitions to the Court to keep him under arrest are a busha, a disgrace and a Chillul Hashem.
Would Batsheva Nigri been thrown into jail had she survived by killing or wounding the Arab before he could murder her?
This mad rush to automatically blame the Jew before the facts are in, let alone the injustice of ignoring the obvious, depicts an image of fright over "the sound of a driven leaf" and flight "fleeing, eventhough no one is chasing them" and tragically emboldens Israel's enemies into believing that, indeed, they can get away with murder.
More than35 Jewish lives have been lost to terrorist barbarians this year. Will you, Min. Gallant, act out of the box to stop it?
Mrs. Tamar Adelstein is Coordiantor of Crown Heights Women for the Safety and Integrity of Israel