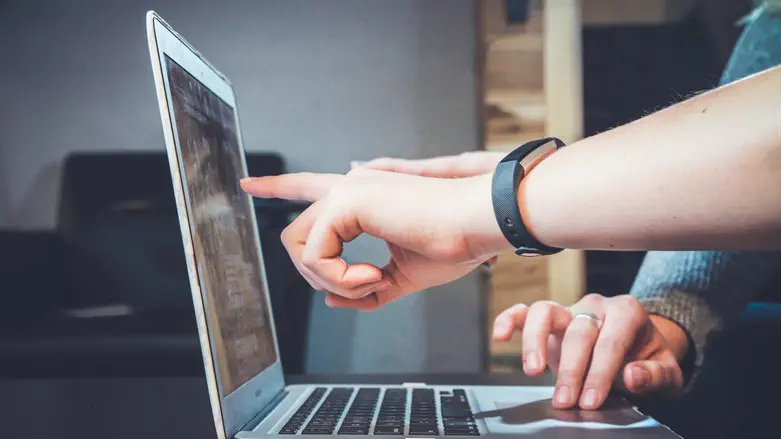 Laptop
ISTOCK
"The wrongs which we seek to condemn and punish have been so calculated, so malignant, and so devastating, that civilization cannot tolerate their being ignored, because it cannot survive their being repeated. That 4 great nations flushed with victory and stung with injury, stay the hand of vengeance and voluntarily submit their captive enemies to the judgment of the law is one of the most significant tributes that Power has ever paid to Reason." -Supreme Court Justice Robert Jackson, the American prosecutor at Nuremberg.
Before the 2020 election, in a massive cover-up engineered by the hydra of big tech, big media, big finance and big government, Miranda Devine's, "Laptop from Hell's" contents were blocked from public view.
"The terrifying reality is they succeeded. The more terrifying thought is what they will do to keep power." Later chapters in the book describe the cover-up, which had occurred prior to the elections, and could have influenced the ultimate results.
Early on, prior to the 2020 elections, Devine released the subject book, highlighting the Left's effort to protect Joe Biden. The Biden camp, Democrats, and the Deep State worked tirelessly to stop Americans from learning – not about Hunter's despicable life of drugs, prostitutes, and familial drama, as vividly detailed on the laptop [seriously, who has an affair and starts sleeping with their dead brother's wife, then her sister within weeks and months of burying that brother?] – but about Joe's covert role in his son's and brother's business of selling access to,or perceived access to, Joe as Vice President, to foreign entities for millions.
Miranda Devine is of the opinion that there is more hard proof of Biden's illegal conduct than there ever was fake proof for Trump's collusion with Russia, yet Biden remains free of special counsel. She is also critical of Bill Barr's failure in not appointing one for Biden.
She does a meticulous job of tying various trips abroad or events in Washington D.C. to facts gleaned via other sources to show Joe miraculously always showing up at dinners, hosting breakfasts, or highlighting Hunter's presence to his clients or potential "investors."
What becomes apparent is the double standard applied to Biden and Trump by officialdom and the media. Perhaps the most interesting segment of the book was Devine's recounting of the Burisma scandal. Biden even bragged about his power in getting the prosecutor fired in exchange for $1 billion.
Divine asserts, "Photographs of Hunter rampant drug use and explicit pornography were all over the laptop. But the real news value lay in the corporate documents, bank transfers, and emails detailing a vast international influence-peddling scheme, sanctioned by the world's most despotic t regime ----and implicating Biden himself.
In the October 22, 2020, presidential debate, President Donald Trump confronted former Vice President Joe Biden about corrupt Biden family foreign business dealings to the moderator: "If this stuff is true about Russia, Ukraine, China, other countries, then he's a corrupt politician ... It's the laptop from hell.". Years later the mainstream media has just grudgingly acknowledged the laptop and its contents reflect a plan, but not a Russian one.
Chapter 21 shares the book's title and is the concluding chapter of Miranda Divine's extremely informative book.' By way of an introduction, it quotes the White House press secretary Jen Psaki on January 2021 saying, "The president is committed to ensuring we have the most ethically vigorous administration in history."
Almost every item in the given chapter appears to be so complete as to not necessitating a read of the rest of the book. A few paragraphs make the point.
"We know from the polls that, if the full story of the Biden family's foreign influence-peddling scheme had been allowed to be told before the election, it likely would have changed votes. Almost 50% of Biden voters polled after the election knew nothing about Hunter's laptop, according to polling by the Media Research Center, and almost 10% said they would not have voted for Joe had they known."
"With fewer than 45, 000 votes in 3 states deciding the outcome, it's not unreasonable to say that suppression of the Post's Hunter Biden story amounted to election interference."
"But the social media suppression had done its job. It had a chilling effect on other media outlets, which dismissed the evidence as "debunked" or "hacked" or just ignored it."
"Trump retorted: 'This is where he's going. The laptop is Russia, Russia, Russia? You have to be kidding. Here we go again with Russia."
Quadrant on Line, published Mark Powell's, "The Biden Family's Corruption Inc. "on November 2021. His introduction, "Divine writes with such clarity and concision that the 200-plus pages and 21 chapters can be easily dig'sted in not much more than a single sitting.'"
Powell remarks that as seen throughout the 2020 presidential campaign, modern newsrooms take it as their duty to deep-six anything that reflects badly on Democrats.
Armstrong Williams posted, "Hunter Biden, the Invisible Government and the Laptop from Hell" on April 7, 2022. Two salient remarks speak volumes.
"Years later, the mainstream media has just grudgingly acknowledged the laptop and its contents reflect a plan, but not a Russian one."
and
"The FBI has possessed Hunter Biden's laptop since 2019, but has done nothing . This is precisely the circumstance that necessitates appointment of an independent counsel to investigate these urgent matters and deliver a report outside the political sphere."
During the summer of 2020, Donald Trump was President of the US, which means he faced the nationwide riots in 2020. Only the power of the National Guard could quell the violence in the summer of 2020. However, while the Guard reported to Trump, only the city mayors were empowered to permit the Guards. Only one mayor permitted the use of the Guard despite Trump's continuous efforts at obtaining their release.
Sidney Powell's "Licensed to Lie" Exposing Corruption in the Department, covers in full the failure of the US Judiciary at the time. This book is a sort of an autobiography by her, chronicling her loss of trust in the American justice system as witnessed by her firsthand during the trial of Jim Brown, an executive of Merrill Lynch, wrongly charged with assisting Enron in an accounting fraud.
Powell learned that no one is safe from overreaching prosecutions, not even the rich. She makes great efforts to show that the problems in the DOJ have existed even as administrations have changed. The book comes across as one disillusioned attorney's first-hand experience with government corruption, and how the shiny image of American freedom and justice was tarnished for her forever.
Her message resonates throughout the book: "The greatest human ideal of Justice is only as good as the character of those who administer it, existing only if its guardians are devotees to integrity and fairness."
Violence is violence, which proceeds court appearances and is hardly referred to in this book. In Israel, it differs somewhat. There are some incidents of violence in the streets, but hatred seems to be predominant. The lack of checks on the Supreme Court's powers lies at the root of the cause for judicial reform.
The Jerusalem Post published David Kirshenbaum's "Restoring Israel's Democracy" on October 1, 2017. In a true democracy, power and authority are granted by the consent of the governed. They cannot simply be seized – not even by sophisticated judges in dignified robes.
While one of the mandates of the Supreme Court, sitting as High Court of Justice, is to order state officials to refrain from taking action that is beyond the scope of their authority, it was former Supreme Court chief justice Aharon Barak who engaged in probably the most improper and far-reaching power heist in the history of the state. The consequences of that illegitimate power grab are reverberating today.
Since 32 Knesset members deemed it necessary to pass a law that says, "There shall be no violation of the life, body or dignity of any person", the Supreme court decided to accord that statement with constitutional status and then allocated to annul any Knesset law in any realm, be it security, economic, social, political or religious, if the Court finds that such law violates the "dignity of any person."
"Time for Electoral Reform" by Neville Teller appeared in Israel Hayom on Dec. 4, 2019. He commences with, "If there is anything we have learned from the political logjam crippling the government is that Israel's current system has landed the country in this mess and therefore it is time to seriously consider it is time to changing it.-----The dire events of 2019 point in no other direction. Electoral reform simply must be a major element in the political program of Israel's next government, whenever it is formed."
From the Gatestone Institute, we have, 'When Judges Rule: A Comparison between the US and Israel" By Professor Alan M. Dershowitz on May 5, 2020. He says, "This is not the time to further politicize a great Israeli Institution" and he encourages judicial reform. This is most useful for protestors to gain knowledge which sadly they lack to facilitate good judgment.
As Maimonides points out to us, no emotion or character trait, except for humility and the avoidance of anger, should be taken to an extreme. Hatred breeds zealotry and zealotry invites and justifies violence and discord.. Unfortunately human beings are influenced and trained to hate and demonize others who are different than they are or who even have different views and opinions on matters both large and small. Both the US and Israel have their enduring "Laptops."
.