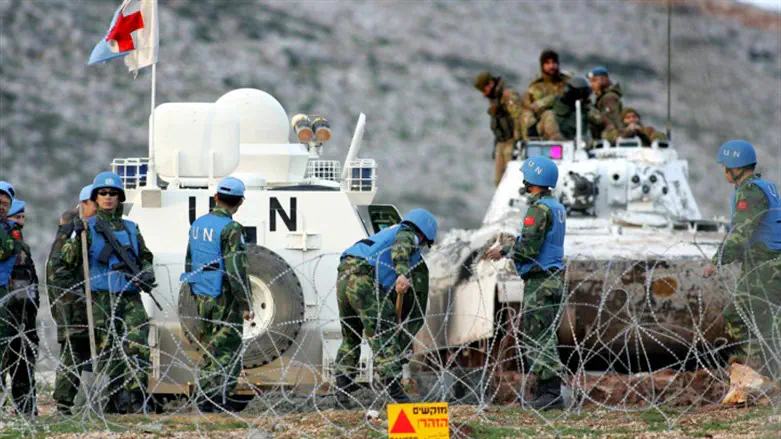 UNIFIL soldiers in south Lebanon
Flash 90
The United Nations Security Council on Thursday renewed the mandate for UNIFIL, its peacekeeping force in Lebanon, for another year after tense debate around the troops' freedom of movement, AFP reported.
The vote was originally scheduled for Wednesday but was postponed for further negotiations. France had drafted a resolution to extend the peacekeeping mission for another year, but the United States and the United Arab Emirates argued it weakened some language on the ability of UN troops to move freely.
Thursday's resolution passed with 13 votes in favor and Russia and China abstaining, and keeps the force in place until August 31, 2024.
The UN Interim Force in Lebanon (UNIFIL), which has been in place since 1978, acts as a buffer between Lebanon and Israel and operates near the border. It works to implement Security Council Resolution 1701, which ended the Second Lebanon War in 2006.
The mandate is largely identical to last year's agreement on allowing freedom of movement for the approximately 10,000 peacekeepers stationed in the country, a point which has been contested both by the Lebanese government and the Hezbollah terrorist organization.
The text approved on Thursday "urges all parties... to ensure that the freedom of movement of UNIFIL in all its operations and UNIFIL's access to the Blue Line in all its parts is fully respected and unimpeded."
The so-called Blue Line refers to the frontier demarcated by the UN in 2000 after Israeli troops withdrew from southern Lebanon.
"UNIFIL does not require prior authorization or permission to undertake its mandated tasks and... UNIFIL is authorized to conduct its operation independently, while continuing to coordinate with the Government of Lebanon," the text added.
US Ambassador to the UN Linda Thomas-Greenfield said that "the United States is pleased to vote yes on the UNIFIL mandate."
"Significantly, the resolution adopted today includes language strongly reaffirming UNIFIL's full freedom of movement and its ability to conduct 'announced and unannounced' patrols," she added. "It is imperative this be fully implemented, and that UNIFIL not face unacceptable obstacles to carrying out its mission."
Israel's Ambassador to the UN, Gilad Erdan, welcomed the resolution as well.
"A significant achievement for Israel at the UN! After a combined diplomatic effort, the Security Council renewed the mandate of UNIFIL in the wording that Israel had fought for, which in the resolution emphasizes the independence of the force and its ability to conduct patrols and inspections without dependence or coordination with Lebanon or any other entity," he said.
"I will continue to demand that the Security Council condemn Hezbollah and demand that the Lebanese government act against its military buildup, which could lead to a serious escalation in the region," added Erdan.