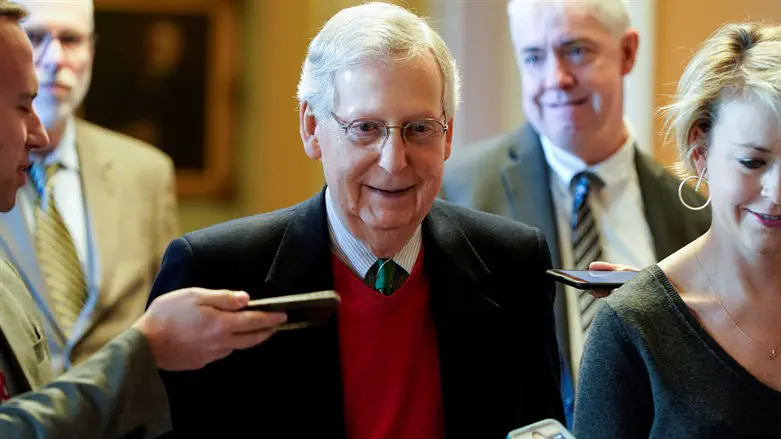 Mitch McConnell
Reuters
Senate Majority Leader Mitch McConnell (R-KY) is medically cleared to continue his schedule, the US Capitol physician said on Thursday, a day after McConnell froze for the second time in as many months in public.
"I have consulted with Leader McConnell and conferred with his neurology team. After evaluating yesterday's incident, I have informed Leader McConnell that he is medically clear to continue with his schedule as planned," Dr. Brian Monahan, the attending doctor for the Capitol, said in a statement released through McConnell's office and quoted by CNN.
"Occasional lightheadedness is not uncommon in concussion recovery and can also be expected as a result of dehydration," added Monahan. McConnell's office has previously said that his freezes were due to lightheadedness and dehydration.
Wednesday's incident occurred when a reporter asked McConnell if he was planning to run for reelection in 2026. McConnell asked the reporter to repeat the question several times, chuckled for a moment, and then paused, closing his mouth and staring straight ahead.
Someone at his side then asked him, "Did you hear the question, senator, running for reelection in 2026?" but McConnell did not respond.
A member of McConnell's detail spoke quietly to him for a moment, and McConnell was able to whisper a response.
McConnell then turned back to reporters, said, "OK," and his aide asked if anyone had another question, and if reporters could "speak up."
Wednesday's incident is similar to the one he experienced in late July, when he suddenly froze for about 19 seconds as he was speaking during a weekly Republican leadership news conference.
McConnell, who has served for 16 years as the GOP leader, the longest of any Senate leader in history, has repeatedly made clear he's staying in his job until the end of next year when the 118th Congress ends.
Following the first incident, McConnell's office said he has no plans to step down, noting McConnell appreciates the continued support of his colleagues and "plans to serve his full term in the job they overwhelmingly elected him to do."
President Joe Biden told reporters Thursday that he spoke earlier in the day with McConnell.
"You know, he was his old self on the telephone, and having a little understanding of dealing with neurosurgeons and people," Biden said. "One of the leading women on my staff's husband is a neurosurgeon as well. It's not at all unusual to have a response … when you got a severe concussion, it's part of recovery. And so I'm confident he's going to be back to his old self."
The concussion Biden was referring to occurred in March, when McConnell tripped and fell after an event for the Senate Leadership Fund at the Waldorf Astoria in Washington.
He was hospitalized with a concussion and a minor rib fracture and was discharged five days later before entering rehab. McConnell did not return to the Senate until mid-April.