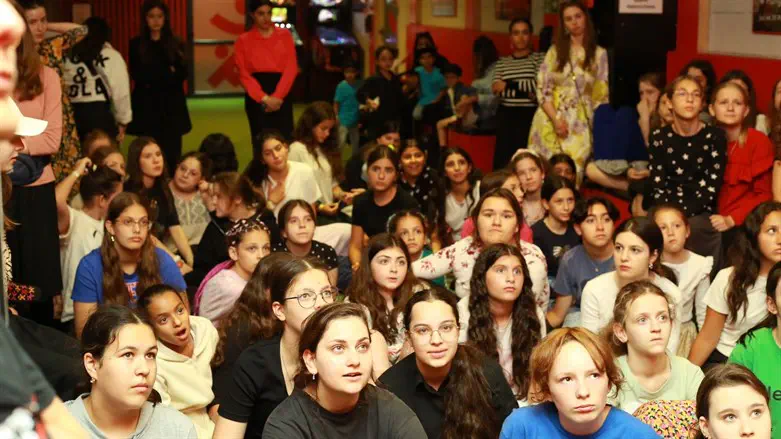 Campers at Camp Yael
Courtesy
An extraordinary scene unfolded this month at the downtown Hilton in the heart of Warsaw, the capital of Poland. Young Jews, hailing from a dozen distinct countries across Europe, Africa, and Asia, gathered for the Yael Foundation's annual summer camp. While they conversed in different languages and wore different clothes, it was clear that these kids shared many more similarities than differences.
What drew these kids together was the Yael Foundation, a Jewish organization that works to advance Jewish education worldwide by strengthening Jewish youth's connection to their Jewish identity and tradition. With a primary focus on strengthening young Jews' connection to their Jewish roots and customs, the Foundation, established by philanthropists Uri and Yael Poliavich, operates across five continents, supporting over sixty Jewish educational initiatives. Annually, the Foundation's summer camp brings together students from these institutions and programs, from places like New Zealand, Vancouver, Casablanca, and Brazil, to foster an empowering community and connect them to their heritage.
This year's venue was Warsaw, marking the camp's third consecutive year. Previously hosted at the Yael Foundation's headquarters in Cyprus, the camp's growth has been remarkable – with attendance doubling each year. This year, the camp drew 170 children who participated in either the boy's or girl's camp. For some children, like those from remote locations such as Morocco and Georgia, it was their first interaction with their Jewish heritage.
Funded by the Poliavich family, the Yael Camp covers all expenses – including travel – ensuring that every child, regardless of their financial background, can participate. Beyond the nominal registration fee, the camp eliminates financial barriers, allowing each child to participate in an exciting camp experience, meet other Jewish children, and immerse in an informal Jewish environment full of warmth and joy.
This year welcomed a special group of campers who journeyed for over thirty hours to arrive from war-torn Ukraine. Since the outbreak of the war over a year and a half ago, many of these children have not left their homes due to the fierce fighting. For many, not only was this a chance to just be kids again, but it was also an exciting reunion with their friends who had been evacuated to other European countries and Israel.
Due to the diverse population, the camp was conducted this year in four different languages: English, Russian, French, and Hebrew. The camp leaders worked hard to create lessons and activities that would educate, inspire, and excite the diverse campers.
Along with the educational program, the Foundation directors invested much effort to create the best possible experience they could for the campers. In addition to their accommodations in a luxury hotel, the children ate strictly gourmet kosher meals, had many unique trips and experiences in Poland, and enjoyed many other surprises.
This year was also the first year that the counselors encouraged campers to refrain as much as possible from using mobile phones. While initially difficult for some, at the end of the camp, many kids and parents celebrated the initiative, which greatly contributed to the warmth of the community and helped the kids build lasting friendships.
Rabbi Shmuel Azman, the chairman of the Yael Foundation, summed up this year's success, "Creating unique and fun experiences for children who come from different cultures and languages is an amazing challenge. I am pleased that we met this challenge and that it even exceeded our expectations. I have no doubt that the children are returning to their countries full of experiences, lessons, and friendships that will stay with them the rest of their lives."
Rabbi Shmuel Azman sees the fact that the camp took place in Poland this year as a touching moment of Jewish history coming full circle. "One hundred years ago, Poland was the epicenter of traditional and vibrant Jewish civilization, one of the greatest communities in the Diaspora. This civilization was brutally and tragically erased in the Holocaust. This year, Jewish children from faraway countries return to Poland for a summer camp that strengthens their Jewish connection. I'm sure," says Rabbi Asman, "that those Above are rejoicing in this."
One of the highlights of this year's program was the chance for campers to delve into Europe and Poland's extensive Jewish history. The campers visited the unique Jewish Museum of Warsaw, the historic Great Synagogue, and many more sites.
While the summer camp has concluded, the Foundation's team has already received many enthusiastic responses from parents. "I can't even describe how wonderful the experience was for our kids," wrote the parents of several children from Georgia. "My children came back home bubbling with energy. They can't stop talking about it," wrote the mother of a Jewish child from Casablanca, Morocco.
Rabbi Azman received a particularly moving response from a Jewish father from Ukraine, "My son will remember this summer for a long time to come. For a year and a half, he has been walking around with downcast eyes. You have restored the light to his eyes. Thank you, thank you, thank you." Rabbi Azman added that it is reactions like these that give the members of the Foundation their passion and motivation to continue.
The Foundation's leadership is already working on next year's plans, united by their shared vision of deepening the love for our Jewish identity and tradition in every corner of the world.