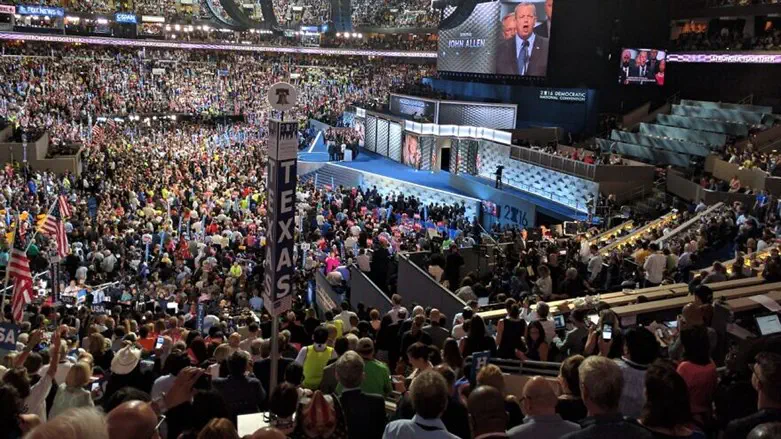 Gen. John R. Allen speaking at the 2016 Democratic National Convention 2016
JNS Photo: Jeff Parker via Wikimedia Commons.
Farley Weiss and Leonard Grunsteinare authors of the new book Because It's Just and Right: The Untold Back-Story of the U.S. Recognition of Jerusalem as the Capital of Israel and Moving the U.S. Embassy to Jerusalem.
(JNS) Contrary to Joe Biden's claim, you can be black and vote Republican. You can also be Jewish, Hispanic or Asian.
In anticipation of the 2024 presidential election, it's important to keep this in mind regarding the "Jewish vote." Florida Gov. Ron DeSantis won reelection decisively with the help of an overwhelming majority of the Orthodox Jewish vote. Lee Zeldin stunned many when he came far closer to winning the 2022 New York gubernatorial election than expected, again with the help of Orthodox Jewish voters.
A 2020 Pew study found that 75% of Orthodox Jews surveyed said they were Republicans or leaned Republican. Interestingly, a 2022 YouGov poll revealed that Republicans have a higher opinion of Judaism than Democrats. In fact, Democrats on the whole have an unfavorable view of Orthodox Judaism, while Republicans have a decidedly favorable one.
These findings clearly don't fit the media narrative that American Jews are a solid Democratic voting bloc.
In civics class, we were taught to vote for the person, not the party. When we studied political science in college, we learned that it was critical to have a seat at the table, where decisions are actually made.
We were told that this required voting as a bloc, so as to establish a large identifiable group that might tilt an election one way or the other. Thus, as a sought-after voting constituency, this bloc is in a position to make reasonable demands that have to be addressed. The bloc can also empower lay leaders to monitor and give voice to the concerns and interests of the constituency.
This is important, because there is typically no intermediate system of accountability for politicians. There is only the reoccurring chore of running for reelection. Thus, if voters can be counted on to mindlessly vote the party line, those votes are essentially irrelevant. Actual local concerns can be ignored in favor of slavishly pleasing the party elite, leading to prestige and advancement in party ranks.
In contrast, if a voting constituency tangibly demonstrates its mettle and unwillingness to be taken for granted by actually voting for the other team on occasion, it changes the entire calculus of decision-making. Losing an election because of a precipitous change in the voting patterns of an identifiable constituency is a jarring wake-up call for politicians and their parties.
Orthodox Jews in a number of locales have become such a constituency. As a faith-based community living in proximity to each other with shared values and interests, Orthodox Jews are a natural voting bloc.
There may not be uniformity of opinion among Orthodox Jews, but there are common concerns, values and interests shared by most members of the community, including:
-Being pro-American.
-Being pro-Israel.
-Security,both to safeguard law and order generally and because of the very real danger of antisemitic attacks.
-School choice.
-A strong and prosperous economy.
-Equal opportunity, equal protection and freedom from discrimination.
-Freedom of religion and the ability to pursue community social, welfare, charitable and educational programs.
-Respect for adherence to family values and traditions without government interference.
Another important element is the Orthodox community's unselfish focus on achieving community-wide goals while trying to accommodate individual and family needs. The balance achieved is incomparable and typically enables the group to coalesce into a potent and effective voting bloc.
There is a symbiotic relationship between being pro-American and pro-Israel. The two are virtually interchangeable because of shared values and interests. Indeed, Pew studies continue to show a substantial majority of Americans are pro-Israel and a large majority of Israelis are pro-American. These issues are litmus tests for candidates and whether they will represent the interests of the Orthodox Jewish constituency.
The presidential election of 2024 is likely to be seminal. The stakes are high for both America and Israel and we must choose wisely. The Democratic party should take note, because the evidence shows that the era of Jews mindlessly voting for them is coming to an end.