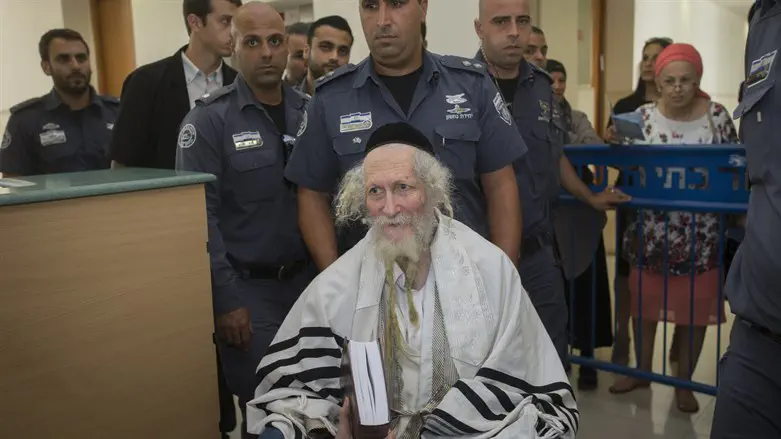 Eliezer Berland
Yonatan Sindel/Flash90
Dozens of haredim will protest on Thursday outside the home of Minister of Jerusalem Affairs and Jewish Heritage Meir Porush (UTJ-Agudat Yisrael) after he intervened to help the leader of the Shuvu Banim cult and convicted sex offender Eliezer Berland enter Ukraine ahead of the Rosh Hashana pilgrimage to Uman.
The demonstration is being organized by haredi activists, together with help centers, which will arrive at 8:00 PM at Allenby Square near Porush's home in Jerusalem to protest what they call the "desecration of G-d's name" and the trampling of Berland's victims.
Earlier this week, it was reported that Minister Porush contacted the Ambassador of Ukraine in Israel, Korniychuk Yevgen, requesting to lift the ban imposed by Kyiv on Berland from entering the country so that he could come to Uman on Rosh Hashanah with his followers.
In addition, Porush sent a letter to an administrative court in Ukraine on this matter, but the court rejected the request and left the entry ban on Berland for the next three years.
The ban on Berland was imposed after he spoke out in one of his classes in favor of Russian President Vladimir Putin.
Sherry Krozer, the chairperson of Hineni, an organization that supports victims of sexual assault, stated: "Minister Porush, who represents haredi Judaism in the state of Israel, uses his position to help a convicted felon who severely harmed many. This was in total violation of the directive set by the great rabbis and the special court which dealt with his case. We call on everyone to stand with us this Thursday at 8:00 PM at Allenby Square and to cry together out loud that our blood isn't worthless. A cry that will be heard from one end of the world to the other. It can't be that the public representative, Minister Porush, supports a criminal, at the haredi public is silent."
Gal Rosayov, a haredi social activist and one of the protest's initiators, stated: "Minister Porush continues to follow in (former minister Yaakov) Litzman's path (who obstructed the extradition of convicted pedophile Malka Leifer), and his assisting a convicted sex offender. How is a young haredi girl who was a victim of sexual assault supposed to feel when she sees, for the third time, that a haredi representative from Agudat Yisrael, whom she voted for, is helping sex offenders, rapists, or pedophiles from her community? How is a haredi victim whose life was ruined and who gets no support supposed to feel in the face of a minister who enlists to help a sex offender? Where are the haredi public representatives from the other factions? Why are they silent?"
She adds: "Time and again, the haredi public has to swallow this embarrassment; from now on, we will not be silent. We will not let our elected officials trample the haredi victims."