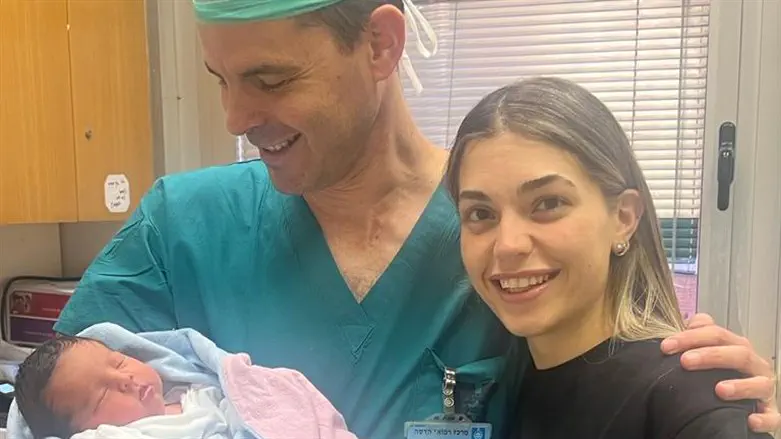 Dr. Cabiri with Talia after the birth at Hadassah Ein Kerem
Hadassah Spokesperson's office
The doctor who delivered Talia was among the leaders of a nationwide operation to save her from cancer 15 years ago.
It was an emotional and special meeting, both for Talia Bazak and her husband Asaf, and for the doctor who accompanied her in her successful birth at Hadassah Ein Kerem, Dr. Doron Cabiri. Today, Dr. Cabiri is a senior physician in the Obstetrics and Gynecology (OB-GYN) Department and heads the high-risk pregnancy clinic at the hospital.
At the age of two, Talia Bazak was diagnosed with leukemia. The young toddler was treated at Hadassah by a team of experts in pediatric cancer; she fought alongside the doctors, and defeated the disease, to the relief of her concerned parents.
At the age of 9, after experiencing various symptoms and undergoing tests, it was discovered that the disease had returned. This time, the cancer affected her ovaries and bone marrow in a rare way. It was determined that she would likely need a bone marrow transplant to save her life.
In 2008, the State of Israel launched a nationwide operation to find a suitable bone marrow transplant donor for Talia. A comprehensive system of sampling stations was established in every city across the country, and the operation began.
Doron Cabiri, then a young medical intern, was among the volunteers who wanted to help. He was selected to coordinate a recruitment station for the bone marrow registry, where many people came to donate samples. He was also among the early donors himself to the registry. His significant efforts in the operation to save Talia earned him an appreciation certificate that he holds to this day.
Meanwhile, Talia was treated by doctors and nurses at Hadassah using a protocol that included chemotherapy and various treatments; the hoped-for recovery came without the need for a bone marrow transplant.
Fourteen years later, a young couple appeared in Dr. Cabiri's clinic. He had since become a senior physician in the OB-GYN Department at Hadassah. Talia and Asaf, who live in Modi'in, experienced a pregnancy loss and sought the close guidance of the high-risk pregnancy specialist, as recommended by many.
"Before we met Dr. Cabiri, I had gone through a stillbirth; it was a challenging and turbulent time," says Talia. "For the next pregnancy, we realized that we had significant challenges ahead and that I would need the guidance of a specialist in high-risk pregnancy. That's how we came to Dr. Doron Cabiri, with many recommendations from family and friends in Ein Kerem. We were told that he is an excellent doctor experienced in guiding pregnancies with challenges, and as soon as we turned to him, we felt that we were in very good hands."
The doctor learned from Talia about her previous pregnancy and, of course, about the cancer she had overcome in her childhood. When she mentioned that a nationwide operation had been conducted to find a suitable bone marrow donor for her, something sparked his interest. He suspected that it might be the same girl, on whose behalf he had volunteered for years ago.
He hurried to his home and found among his belongings the certificate of appreciation he had received after volunteering in the operation, which he had kept for the past 15 years.
"Suddenly, I realized that I hadn't just suspected that it might be the same girl for whom I had volunteered years ago. Today's Talia is the same Talia as the Talia back then. That wonderful 11-year-old girl that I worked so hard to help find a bone marrow donor to save her life," he reflects. "I didn't tell Talia about the special connection I had discovered between us and preferred to wait until after she gave birth, so as not to burden her emotionally. Since then, she has been my patient at the high-risk pregnancy clinic at Hadassah, and I accompanied her and Asaf throughout the months of pregnancy. We treated her pregnancy with great sensitivity and did everything to ensure that Talia and her baby remained healthy."
Yafit, Talia's mother, who went through a long and tumultuous journey with her daughter, shares, "Talia found in Dr. Cabiri support and a warm attitude, like that of a father to his daughter: attentive, calming, accessible at all hours of the day. He became her guardian angel, the only figure she would listen to and trust for anything he thought would be good and right for her. He was sensitive and took on the entire process that we were going through, and always with understanding and grace."
Presently, they stand around the crib of Talia's newborn son and can hardly believe it.
"This week, I had the honor of delivering Talia at Hadassah Ein Kerem - the hospital where, 15 years ago, she was healed and given life 15 years ago. It was an amazing closure to the circle," Dr. Cabiri says with excitement. "Only after the birth, when she recovered in the maternity ward, did I tell her and her family that I had been part of the efforts to save her life 15 years ago."
"It was an emotional surprise for everyone. They were simply amazed by this incredible coincidence, and they said that it explains the connection between Talia and the doctor who had accompanied her all the way through. I experience significant moments in our maternity ward at Hadassah with our patients, and it's always moving, with every new birth," he adds. "But with Talia and Asaf, there's an additional dimension, beyond the successful pregnancy and healthy birth. Their sweet son symbolizes her strength, her resilience, and her determination to overcome the challenges that both of them faced, together with Talia's mother, who is a figure to be admired. I'm truly grateful to have been a part of their dream of building a family. It's a true privilege."
Talia sums up her experience with heartfelt emotion, saying, "Dr. Cabiri was there during challenging moments, and we always knew that I was being treated by a professional and responsible doctor who provided full care and close guidance. In a second, I connected with him, and he became my authority for everything. It was amazing to discover that he was a part of the human chain that worked to save me during my childhood. Today we're leaving Hadassah as a family, and we thank Dr. Cabiri, the amazing Hadassah team, and everyone who helped along the way, and supporting us until the most powerful moment in our lives."