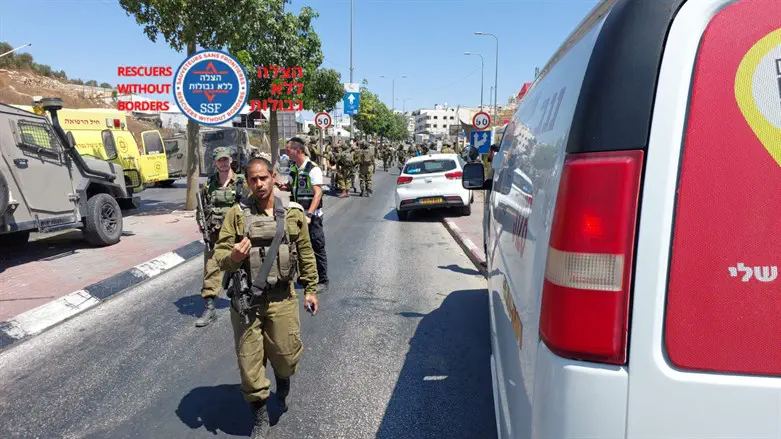 הזירה בבית חגי
צילום: הצלה ללא גבולות
A terrorist was eliminated Wednesday after attempting to ram a group of IDF soldiers near the southern exit from Hebron, adjacent to the town of Beit Hagai.
Soldiers from the Seventh Brigade's Battalion 603, who were near the army checkpoint, neutralized the terrorist.
One soldier was scraped on his arm.
"Following the initial report, an assailant arrived by vehicle to Junction 200, adjacent to the city of Hebron, and accelerated toward IDF soldiers conducting routine activity at a military post. The soldiers at the scene neutralized the assailant," the IDF said.
"As a result of being hit by the vehicle, an IDF soldier was lightly injured. He received medical treatment at the scene and was evacuated to a hospital for further medical treatment. His family has been notified."
A statement from Beit Hagai read: "Ten days have passed since the horrific terror attack in which Batsheva Nigri was killed and Aryeh Gotlieb was severely wounded. And here - the terrorists once again send a painful reminder that terror continues, and therefore we need additional actions - more creative ones - in order to eliminate the terrorists' activities."
"Our demand that the exits from Hebron be immediately closed is strengthened by this terror attack, and we demand that military sources carry this out immediately, in order to prevent additional people from being killed or injured."