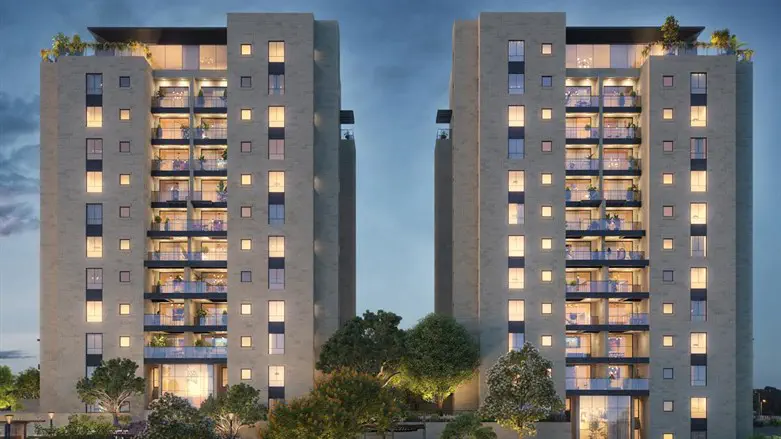 West park
West park
Large, 4 room luxury apartments for only $1M
West Park's strategic location has you close to everything you love and need. It starts with the gorgeous park right out the door and stunning views from the windows. The light rail stop on the street quickly connects you to anywhere in the city. And you have even more public transport options at the Central Bus Station which is just 5 minutes away. With Jerusalem's public transport overhaul — including the express JLM-TLV train and multiple new light rail lines — everything in the city and the entire country is coming closer!
West Park's building's plans indicate a new living status in the center of Jerusalem. Modern facades and beautiful luxury apartments are already going up above a planned sprawling park, overlooking breathtaking panoramic views. Conveniently located on the light rail route, it's close to everywhere in the city. Kanfei Nesharim St. and its burgeoning shopping centers are just a short walk away. The Givat Shaul neighborhood boasts lots of local playgrounds, a vibrant Torah community, and a large variety of local schools and shuls. All this translates to a home worth buying for living or as an excellent investment.
One unique and rare detail in new Jerusalem projects, West Park's building plans ensure that every single apartment has a sukka porch! Just imagine yourself sitting in your sukka next year, enjoying the chag in the middle of Jerusalem, with room to invite family and friends. With a sukka porch not a given in so many of Jerusalem's new residential towers, this small yet important detail convinced many buyers to choose West Park.
The buildings' posh lobbies make for an inviting and elegant entrance with high-speed elevators zipping you straight to your exquisite apartment. Only top-quality materials are used and interiors sport meticulous finishing touches. Construction is already in full swing with occupancy set to take place in just a year's time.
The Givat Shaul neighborhood doesn't make the headlines often. But it's right at the entrance to Jerusalem between the Romema and Kiryat Moshe neighborhoods and a few minutes from Har Nof. It's a combination of quiet residential streets, shopping centers, and office buildings. Originally founded in 1906, it's now a thriving center of frum Jewry.
New construction in such a central location — outside of the popular Romema area — is rare. This long-awaited development is a solution for many locals who have long been looking for upgrade options in the area. West Park brings new life — and homes — to Givat Shaul. It's also a smart investment and an excellent opportunity for anyone looking for prime real estate set to sharply rise in value.
Choose from spacious 3-5 room apartments or luxurious garden & penthouse options. All owners receive a parking space and storage room as well. And yes, everyone has a sukka porch!
West Park! It's a smart buy — for living or investing. Now being marketed in the USA for the first time, you can get in on this opportunity for only $1M. Prices in nearby Romema are close to double!
This is the first time West Park is being marketed in the USA. Get the inside scoop - Click here >>