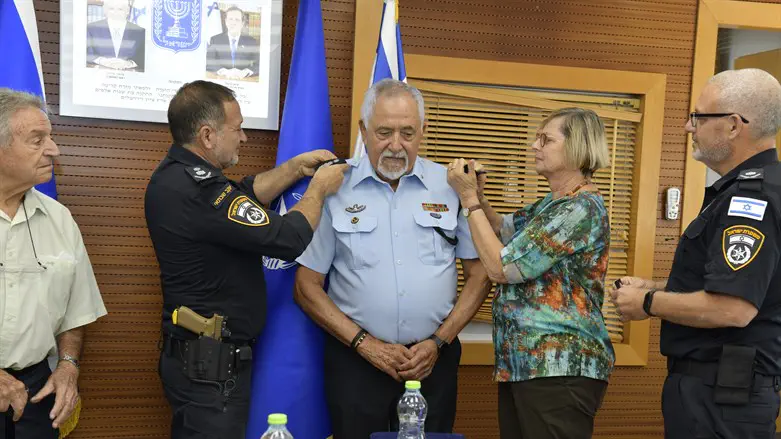 Amram's promotion ceremony
Israel Police
Police Commissioner Yaakov Shabtai awarded the rank of Captain to retired police officer Amram Losaki, who by virtue of his position was the bodyguard of Nazi leader Adolf Eichmann during his incarceration in Israel after he was captured by the Mossad.
Amram Losaki joined the Border Police in 1957. In 1960, being in the rank of sergeant, he was called to join the Iyar Unit, which was entrusted with the safekeeping of Adolf Eichmann. Losaki served in the unit from the day it was established in 1960 with the aim of preparing for Eichmann's trial until its disbandment in 1962, with the hanging of Adolf Eichmann at the end of his trial.
In 1980 he retired with the rank of lieutenant and began to work on preserving the legacy of the Iyar Unit, mainly through lectures. In recent years, Amram helped promote the historical research about the Iyar Unit that led to the disclosure of the police activities in the Eichmann trial to the general public.
The police say that the important and significant task that Amram fulfilled as part of his service in the Iyar Unit and his work to preserve the unit's heritage, made a significant contribution to the exposure of the unit's activities and is an important chapter in the history of the Israel Police and the State of Israel, which deserve appreciation from the organization.
In recognition of his contribution over the years, Minister of National Security Itamar Ben-Gvir approved the awarding of the rank of Captain to the 88-year-old Amram Losaki.
The Commissioner of Police commented: "There is no event more joyful and there were not many classes of people of this age who entered this room to be awarded a rank and as a token of organizational appreciation we decided to award the rank of Captain to Amram. Most of the people who are here received the book that was distributed at the heritage house in which it was written about the historical episode of the unit that dealt with the security of Adolf Eichmann. There are 2 books and this is one of them. This is my opportunity on behalf of the entire organization and on behalf of the Israel Police officers to say thank you for preserving the heritage, which we rely on and continue with, may you have the best of luck."
Amram Losaki, for his part, thanked the commissioner and those present in the hall and said that he would continue to represent the Israel Police faithfully.