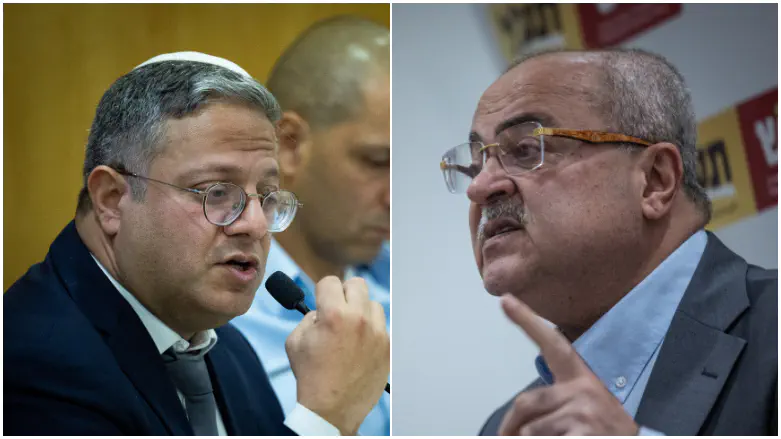 Tibi and Ben-Gvir
Chaim Goldberg/Yonatan Sindel/Flash90
MK Ahmad Tibi attacked National Security Minister against the background of the record number of murders in the Israeli Arab sector this year.
"Ben-Gvir grew up memorizing the saying 'death to Arabs' for many years - now Arabs are dying in front of him. I don't think he sees this as a failure. There is no doubt that Ben-Gvir is an agent of chaos," Tibi said in an interview with 103 FM Radio.
"The state can do more and it is not doing it. There is no doubt that Ben-Gvir is an agent of chaos, the general thought in the Arab community is that there is an official and state decision that there should be chaos in Arab society and that they will act to preserve their lives and not those of others. The police commissioner said that it is in our nature to kill each other," he claimed.
Tibi quoted the interview Ben-Gvir gave with Channel 12 News last week in which the minister stated that the right of Jews to live and not be murdered outweighs the right of Arabs to freedom of movement on the roads of Judea and Samaria.
"I translated his words and sent them to the whole world, the admission that there is apartheid," Tibi said.
"There are many who work to maintain this reality, not just Ben-Gvir. This government and all its members support this situation. Did the previous government, Bennett and Shaked, think the same thing about the settlers and their right to freedom of movement?
In addition, Tibi claimed that he also receives threats on social media: "On Facebook and Twitter, sometimes when I talk about the criminal organizations, I receive clear messages. Whoever murders two municipal directors-general and threatens mayors is saying that no one is safe."