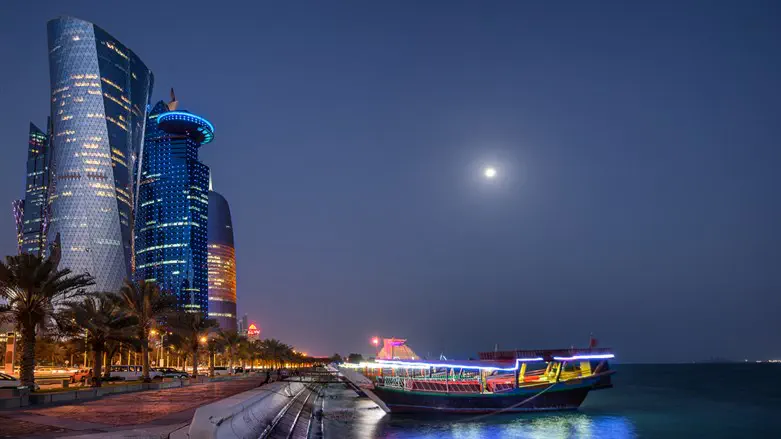 Doha, Qatar
iStock
The Prime Minister of Qatar, Mohammed al-Thani, spoke at a conference in Singapore on Friday and talked about his country's relations with Israel and about the possibility of normalized relations between Israel and Saudi Arabia, Haaretz reported.
Al-Thani said that ultimately, his country is not at war with Israel and that the issue is the "Israeli occupation of Palestinians".
On the talks between Israel and Saudi Arabia, al-Thani said that there was no official word of such talks. From Qatar's perspective, he said, the conflict between the region and Israel relates to the Palestinian issue, and the reference point for all Arab states is the Arab initiative launched by Saudi Arabia in 2002. He said that Qatar abides by it and believes that the initiative is the best way to achieve peace.
The 2002 peace initiative stipulates that 22 Arab countries will normalize ties with Israel in return for an Israeli withdrawal from Judea and Samaria. Israel to date has rejected the 2002 Saudi proposal due to the fact that it calls for Israel to accept the so-called "right of return" for millions of descendants of Arabs who fled pre-state Israel, effectively bringing an end to the Jewish state.
Al-Thani stressed Qatar's commitment to continue striving for stability in the Middle East, calling his country a small country in a roiling neighborhood.
Qatar and Israel do not have diplomatic ties, but Qatar has in recent years had an ongoing engagement with Israel over aid to Gaza. Qatar has provided hundreds of millions of dollars in recent years to pay for electricity in the Strip, build new roads and hospitals, help Hamas cover the salaries of its civil servants and provide monthly stipends to poor families.
Israel has approved the transfer of the Qatari money and has come under fire for doing so as Hamas continues to regularly fire rockets at Israeli towns in the south.
During the World Cup which was held in Qatar last year, an historic agreement was reached which saw direct flights operating between Israel and Qatar.
Despite these engagements, Qatar's Foreign Minister last year ruled out the prospect of his country normalizing relations with Israel.
In an interview with Axios, he said that Qatar had previously maintained ties with Israel "when there was prospects for peace" with the Palestinian Arabs, but that his country "lost hope" after the 2008-2009 Gaza War.
He added that Qatar continues its "working relationship" to help the Palestinian people, but that it is difficult to envision joining the Abraham Accords "in the absence of a real commitment to a two-state solution."