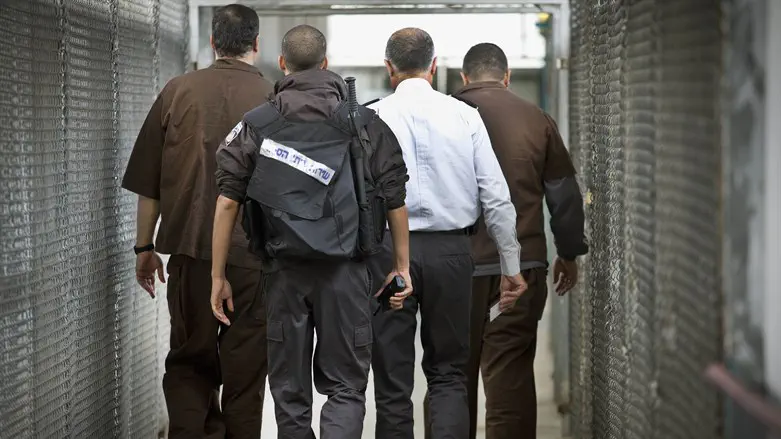 Security prisoners in jail
Moshe Shai / Flash 90
The IDF has been forced recently to cancel critical arrests of terror suspects, following a request from the Israel Prisons Service regarding the overwhelming numbers of convicts, Israel Hayom reported.
According to the report, among other things the Israel Prisons Service requested that the army not carry out administrative detentions, which are used to stop terrorists who are considered ticking time bombs before they attempt an attack.
During the last year and a half there has been a sharp rise in terror in Judea and Samaria, and the Central Command is maintaining a particularly aggressive policy against terror, and especially regarding arresting thousands of suspects. One of most important tools in the hands of security forces are administrative detentions, by means of which many suspects are detained for long periods in order to prevent future acts of terror by "ticking time bombs."
As such, in the last four days, the IDF, Shin Bet, and Border Police arrested more than 65 wanted individuals, and executed four brigade operations in the Ephraim, Samaria, Judea, and Benyamin regions.
In recent years there has been a substantial rise in the number of orders for administrative detentions: While in 2021, there were around 450 administrative detentions, in 2022 the number rose to more than 900. So far in 2023 more than 500 terrorists have been arrested by this mechanism.
Now, during a sharp rise in terror attacks, which demands aggressive measures, the IDF has been requested to slow and even stop the administrative detentions. Lately the Prisons Service has made several requests to slow or completely stop the number of detentions, because the jails cannot handle the demand. As a result of this, the IDF has been forced to cancel various arrests, regardless of the threat to human life.
Now, the IDF has reached a point where it must look at the list and decide which suspects will not be arrested because there is no space for them. An anonymous individual in the army expressed his frustration by saying, "This is an absurd situation, this has happened again and again."
The Israel Prisons Service's responded to Israel Hayom, "The Prisons Service is an operational agency which is not involved in establishing the policy of other enforcement organs. The stress in the jails, which is national in character, is impacted by many different causes. Hence, the Prison Service operates and manages on a day-to-day level to cooperate in finding a solution for imprisonment, which appropriately provide for the rights of detainees and prisoners. Among other things, the representative of the Prisons Service instructed to freeze building projects which would provide additional places in the wards undergoing renovation, and evacuate approximately 200 places for detainees."