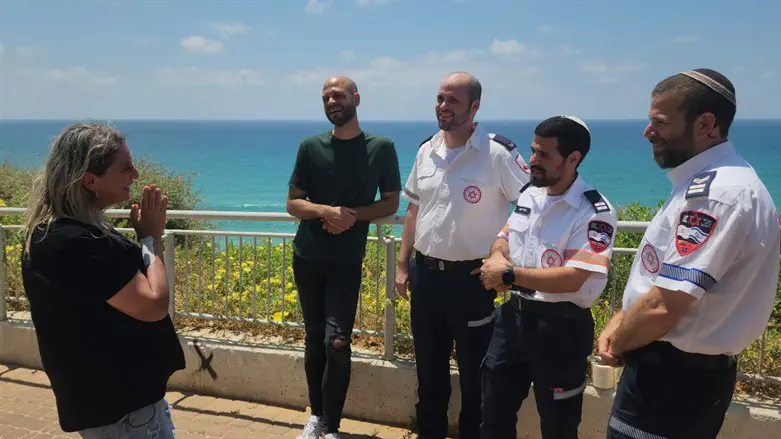 Nurit Moses meeets the MDA personnel who saved her
MDA spokesperson
A 58-year-old woman who suffered a heart attack while driving home is alive today thanks to a passerby and the rapid response of Magen David Adom, Israel's national emergency service. Had they arrived minutes later, she could have had permanent brain damage or died. Just days after being released from hospital, she was reunited with the MDA team that saved her life.
Nurit Moses left her job in Savion, got into her car, and began her routine drive home to Netanya. Although she had some chest pains, she sat in her car until they passed. But as she stopped at a traffic light in Kiryat Ono, she suddenly felt a sharp pain. While at the wheel, she suffered cardiac arrest and lost consciousness. Her car began to slide into the intersection between the passing vehicles until it finally collided with a wall.
Dennis Srilan, a passerby, immediately called Magen David Adom's 101 emergency call center to report what at first seemed like a normal traffic accident. The EMT dispatcher instructed Srilan on how to provide first aid, while simultaneously dispatching first responders and a Mobile Intensive Care Unit (MICU) ambulance team to the scene.
Noam Dahan, a senior EMT, arrived within a matter of minutes and recognized this was no ordinary accident; he realized the woman had suffered cardiac arrest. Dahan started CPR and connected a defibrillator, shocking her back into consciousness.
The mobile intensive care team, led by MDA paramedic Dor Tzabri and EMT Nathaniel Dudkevicz, arrived on the scene, gave Moses advanced medical and drug treatment and, together with Dahan, transported her to Beilinson Hospital in Petah Tikva. During the transport, Moses was fully conscious and communicating with the team, even joking and singing with them.
"Inside the MICU I was already conscious; I came back to life," said Moses. "This is something that is not ordinary. I thank you so much. I feel like there was a miracle there. You are my miracle."
EMT Dahan: "Seeing you now two weeks later standing on your feet with your family is fulfilling and satisfying. It gives us a lot of strength to continue saving lives."