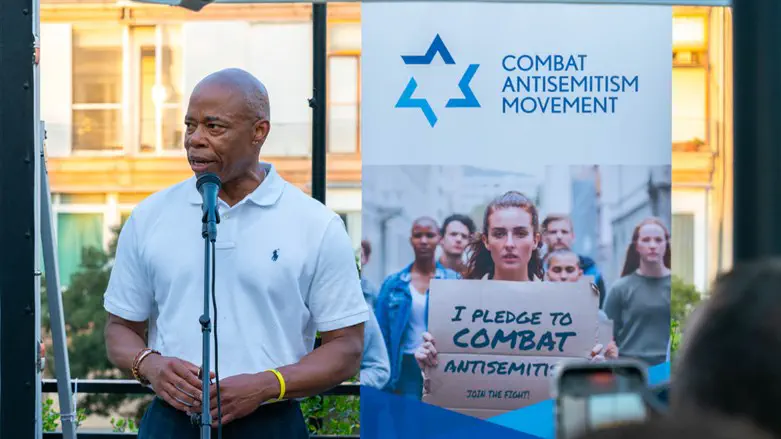 Eric Adams speaks about antisemitism
Adam Sherez
New York City Mayor Eric Adams was the guest of honor on Wednesday evening at the "White City Soirée" in Tel Aviv, co-hosted by the Combat Antisemitism Movement (CAM), F2 Venture Capital, and Ximus Forum, where he spoke with a group of top Israeli business, finance, and technology leaders.
In his remarks at the event celebrating New York-Tel Aviv economic ties, Mayor Adams hailed Israel's culture of innovation, and encouraged the audience to look to Israel's past for inspiration to overcome current challenges.
"Hard is starting this country being surrounded by people who hated you," Mayor Adams noted. "Hard is figuring out how to do drop irrigation so you can start growing your own products. Hard is building and being not only a start-up nation, but now leading a number of start-ups you're seeing across the globe. And the reason you've survived layers and layers of difficulties and you're still here, it is not because of the soil but because you're made of good quality. It's the people, folks!"
"Don't stop believing, Israel," he added. "That is the potent secret weapon. All of you who are start-ups, you believed in something. The original start-ups were your parents and grandparents, they believed in something. Israel is a unicorn because of them. Don't abandon what they built."
Adams also commented on the global fight against contemporary Jew-hatred, saying, "When you start to combat antisemitism, if you miss all the layers, then you will only peel off the top. We have to go to the crevices, to all of those who are participating in antisemitism, who are hiding their hand. They throw a rock, hide their hand, and when you're bleeding they give you a bandaid and you thank them, when in fact they were the one who threw the rock in the first place. If we want to dismantle and combat antisemitism, we have to go to the core and the heart of it and dismantle the entire team. That's how you get rid of antisemitism."
Other speakers at Wedensday's gathering, moderated by CAM Senior Advisor Revital Yakin Krakovsky, included founder and managing partner of F2 Venture Capital Jonathan Saacks, Carbyne VP Global Partnerships Michal Raz and serial entrepreneur and investor Guy Nizan.
CAM CEO Sacha Roytman Dratwa stated, "New York and Tel Aviv stand out among the most innovative economic hubs across the globe. The visit of Mayor Adams is poised to further enhance the thriving and mutually beneficial business and high-tech ties between these two dynamic cities. We greatly appreciate the mayor's strong and deeply-felt friendship with the Jewish people and the State of Israel, and we're excited to continue collaborating with him to tackle common challenges and capitalize on shared opportunities as we navigate the path forward in an increasingly interconnected world."
Wednesday evening's event was the final stop for Mayor Adams on his three-day visit to Israel, his first since taking office. CAM also co-hosted, in partnership with the UJA-Federation of New York, an interfaith and intercultural welcome reception for Mayor Adams in Jerusalem shortly after his arrival in the country on Monday.
Last fall, Mayor Adams delivered keynote remarks at the Mayors Summit Against Antisemitism in Athens, Greece, where he was recognized with CAM's Civic Leadership Award. Furthermore, he participated in CAM's New York Symposium Against Antisemitism this past May.