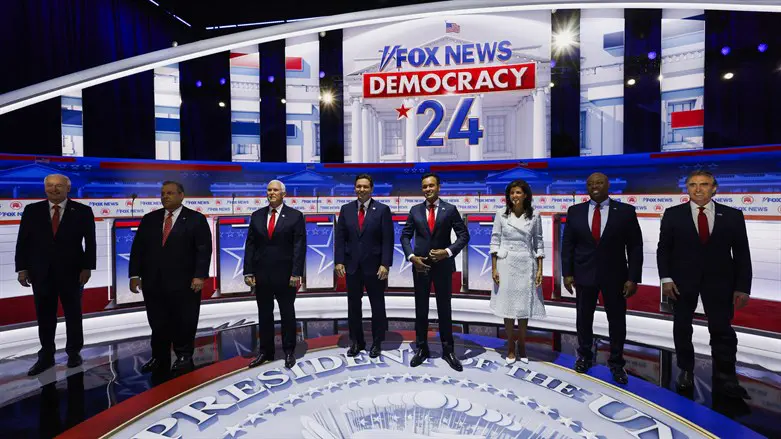 Republican presidential candidates in first debate in Milwaukee
REUTERS/Jonathan Ernst
Eight Republican presidential candidates gathered on Wednesday night for the first Republican presidential primary debate which took place at the Fiserv Forum in Milwaukee.
The candidates who took part are North Dakota Gov. Doug Burgum, former New Jersey Gov. Chris Christie, Florida Gov. Ron DeSantis, former UN Ambassador Nikki Haley, former Arkansas Gov. Asa Hutchinson, former Vice President Mike Pence, businessman Vivek Ramaswamy and Sen. Tim Scott of South Carolina.
The debate, sponsored by Fox News, was moderated by hosts Bret Baier and Martha MacCallum.
Former US President Donald Trump announced ahead of time that he would be skipping the debate. Instead, he taped an interview with former Fox News host Tucker Carlson.
The moderators opened the debate by asking DeSantis why the number-one song in the country, Oliver Anthony's "Rich Men North of Richmond," a viral hit about working-class woes, is striking such a nerve right now.
The Florida governor responded by saying that "our country is in decline", adding, "This decline is not inevitable. It's a choice. We need to send Joe Biden back to his basement and reverse American decline."
"We also cannot succeed when the Congress spends trillions and trillions of dollars. Those rich men north of Richmond have put us in this situation," DeSantis said.
When asked about the US economy, the Florida governor said that "a major reason" for inflation and the country's debt is the federal government's handling of the COVID-19 pandemic.
DeSantis took a shot at Trump, blaming his administration for "locking down this economy."
"It was a mistake. It should've never happened. And in Florida, we led the country out of lockdown. We kept our state free and open," said DeSantis.
Ramaswamy made an appeal to voters by seeking to distinguish himself as an outsider.
"I'm not a politician, Bret. You're right about that," he said, in response to a question from Baier about why voters should choose him over more experienced candidates.
"I do think, Bret, it's going to take an outsider," he continued. "Because for a long time we had professional politicians in the Republican Party who have been running from something. Now is our moment to start running to something. To our vision of what it means to be an American today."
Ramaswamy swiped at DeSantis, referring to a memo released by a firm connected to Never Back Down, a super PAC backing DeSantis' presidential bid. DeSantis has distanced himself from the memo.
"The reality is you have a bunch of people, professional politicians, super PAC puppets following slogans handed over to them by their 400-page super PACS last week," Ramaswamy said.
He used the memo to distinguish himself as more authentic than DeSantis and the other candidates on the stage.
"The real choices we face in this primary is this: Do you want a super PAC puppet or do you want a patriot who speaks the truth?" Ramaswamy said.
Pence flexed his experience as vice president, congressman and governor, saying, "I think I am unquestionably the best prepared, the most tested, the most qualified and proven conservative in this race."
Pence also took a jab at Ramaswamy, "Vivek recently said, 'A president can't do everything.' Well I've got news for you, Vivek. I've been in the hallway and the West Wing. A president of the United States has to confront every crisis facing America."
The first true mention of Trump was when the candidates were asked about his legal woes. Asked if they would support Trump if he were to be convicted in any of the four ongoing criminal cases into his conduct, nearly all GOP candidates committed to continuing to back him.
All but Hutchinson raised their hand and said they would stand by their pledge to support Trump if he secures the GOP nomination and is later convicted.
Asked if Pence did the right thing on January 6, 2021, Scott replied, "Absolutely, he did the right thing."
DeSantis initially sidestepped the question, but when pressed on the issue, replied, "Mike did his duty, I got no beef with him."
Haley, for her part, said Pence did the right thing but added that she trusts the American people to decide whether or not Trump can serve.
"I do think he did the right thing. We need to give him credit for that," Haley said, adding, "I trust the American people. Let them vote and let them decide. They will tell you it is time for a new, generational, conservative leader. Three-quarters of Americans don't want a rematch between Trump and Biden."
Hutchinson was booed by the audience after said Trump is morally disqualified from being president again as a result of the Jan. 6 Capitol riot.
"I'm not going to support somebody who's been convicted of a serious felony," he stated.
Haley lashed out at Ramaswamy, who recently said that the US should reduce its aid to Israel.
"You have no foreign policy experience, and it shows!" Haley told Ramaswamy, who replied, "Not true! Israel is our friend" and then added, "You know what I love about Israel? I love their border policies. I love their tough-on-crime policies. I love that they have a national identity and an Iron Dome to protect their homeland."