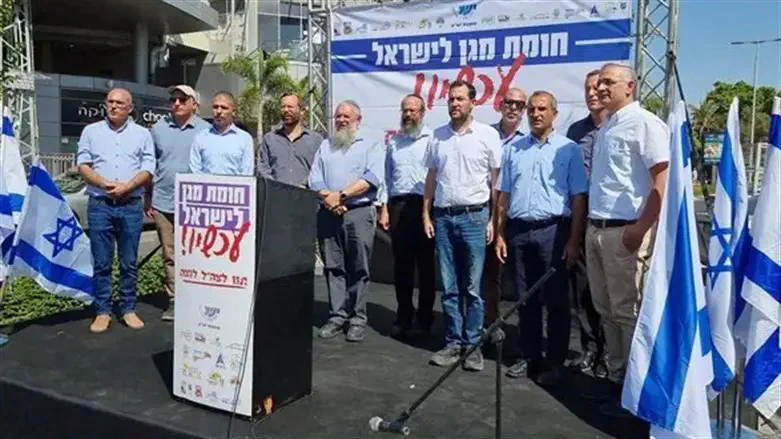 Yesha leaders demonstrate
Arutz Sheva
The regional Governors of Judea and Samaria assemble outside the Prime Minister's Office today (Tuesday) and issued a joint call for a change in the Israeli government's approach to security needs in the region.
"The Israel Defense Force is taking action to fight terrorism on our streets and aimed at our families. These soldiers are our children and our brothers, and they risk their lives to defend our nation. The bottom line is that the IDF is responsible for Israel's citizens. But Israeli military actions must be more frequent and with greater force. The reality today, with Israeli citizens - mothers, children, teachers, students - murdered every week on our roads and in our homes, is unacceptable and we cannot live like this. Now we expect, and demand, a change in the government's approach," the governors stated.
"Our government is indeed taking actions that previous governments did not: Strengthening the towns, the infrastructure, and the roads. At the same time, along with our general support for the government, the mayors are committed to the absolute security of our residents. That's why we are here, to state loud and clear to the Prime Minister, the Defense Minister, and the heads of the military – our colleagues: The results are unacceptable and you must do everything so that this wave of terror ends. Ultimately, this means that a village that is the starting point for repeated terror attacks must be closed off; that whoever finances terror should be put behind bars; that whoever initiates terror attacks must be eliminated immediately, without hesitation. The current methods are insufficient and must be changed.
"It is our responsibility as leaders of the people, to ensure that the military does not only run after the terrorists, but attacks their cities. If we know that a city is nurturing terror, we must close the city; if we know that someone educates toward or sponsors terrorism, we must shut them down. The Palestinian Authority sponsors terrorism. We cannot agree with that. We must change the method. We must fight the people who sponsor terrorism, educate for terrorism, and send out terrorists.
"I expect our friends in the international community to support a strong stand against terrorism. This is not a problem that we face alone; it hits close to home in every state, in every country.
We need to stand together and fight terrorism because terrorism knows no boundaries," the governors' statement concluded.