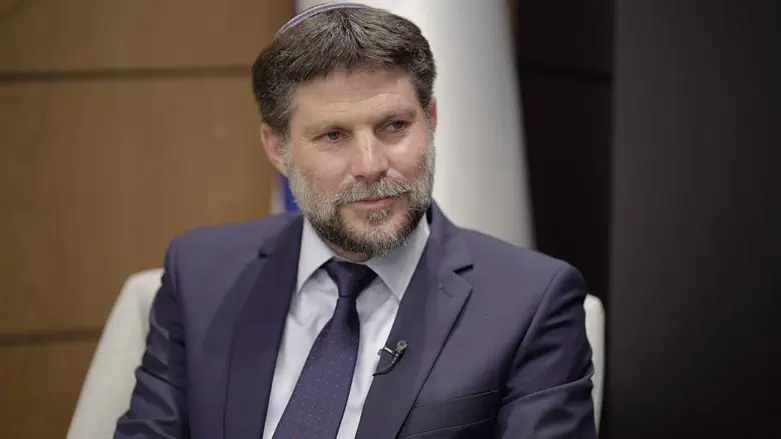 Bezalel Smotrich
Photo: INN
Finance Minister Bezalel Smotrich, chairman of the Religious Zionist Party, spoke to Israel National News on Monday evening about the attack near Hebron and the complex security situation, and stressed that there must be a change in key components of the IDF's and the defense establishment's concept of operation, in the face of Palestinian Arab terrorism.
"A difficult day that comes after a difficult Shabbat. I spent two hours today in Beit Hagai, a community that is burying its eighth murdered person, in a town of less than 120 families. In some ways, the writing was on the wall. I want to say two things: there is a major security challenge, and we are committed to acting differently," said Smotrich.
"People are acting and are making an effort, but I'm not certain they are doing enough and doing it right. Ultimately, we are paying prices that we don't want and don't have to pay. The second component is the strengthening of the settlement enterprise. Terrorism has occurred since the establishment of the state, in the end the real answer is the continuation of strengthening settlement in all parts of the homeland."
Commenting on a decision to strengthen the settlement enterprise in Judea and Samaria, which will be brought before the Cabinet next week, he said, "This coming Sunday we will bring a huge government decision to strengthen settlements in Judea and Samaria. This is a decision that we have been working on for several weeks and which the Prime Minister and I agreed on several months ago. The innovation in this decision is that we are taking three areas: The Hebron hills, the Jordan Valley and northern Samaria, and are placing an emphasis on them, with the understanding that these are areas that need strengthening more than all. We will continue to promote the construction and regularization of communities, and the establishment of new communities."
Smotrich commented on what he believes the defense establishment's policy should be in the face of Palestinian Arab terrorism: "I have great respect for the commanders of the IDF and its soldiers, and at the same time I think there are things that should be done differently. It's time for new perceptions. I tell the public two things: We are strong. We have full faith in the rightness of our path. We have more than half a million residents [in Judea and Samaria] and we will bring another half million. The second thing is that we have good security forces and very dedicated commanders, and yet again I think there are elements in the concept of security that should be handled differently. We are making noise on this matter and are working to change in dialogue with the Prime Minister, the Minister of Defense, the defense establishment and the IDF."
Hebrew video: