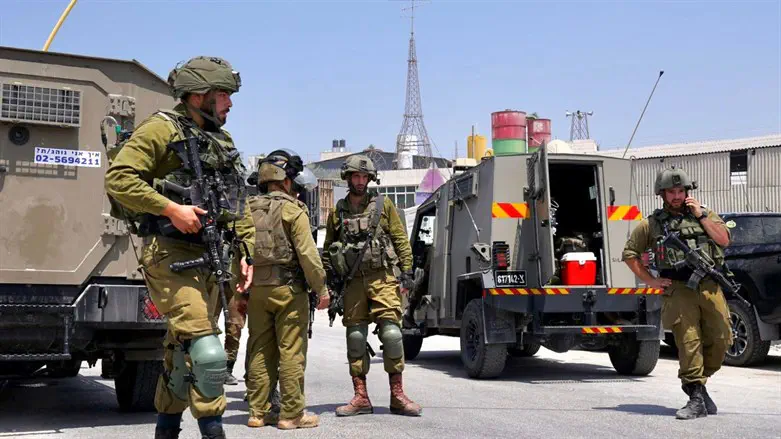 IDF forces at scene of the attack
IDF Spokesperson
An announcement circulating on social media attributed to the Fatah movement's military wing, the al-Aqsa Martyrs' Brigades, claims responsibility for the terror attack on Monday morning in which Batsheva Nigri, a mother of three, was murdered and an additional man was severely injured.
"In the merit of the exalted Allah, the al-Aqsa Martyrs' Brigades, the military wing of the Palestinian National Liberation Movement 'Fatah,' announces its responsibility for the execution of the sacrifice operation in the city of Hebron near the Kiryat Arba settlement - Route 60 on Monday morning the 21st of August 2023, in which a Zionist settler was killed and another was seriously wounded," the announcement stated.
It also stated that "this operation comes as a natural reaction to the crimes of the occupation and its arrogance" and that "we emphasize to our people that the operation comes on the day that the al-Aqsa Mosque was burned in 1969 and to refresh the memory of the Zionist enemy's crimes and out of dedication to the souls of our martyrs and our devotion to the way of the rifle as a strategic way."
The announcement concludes: "Glory and victory for the pure martyrs and a quick recovery for all our injured heroes. This is a revolution until victory, killing will be answered with killing, bombs with bombs, terror with terror."
It should be noted that the announcement is different from past official al-Aqsa Martyrs' Brigades' announcements, in the past, claims of responsibility were falsely attributed to the organization, and later it was discovered that Hamas was responsible for the attack.