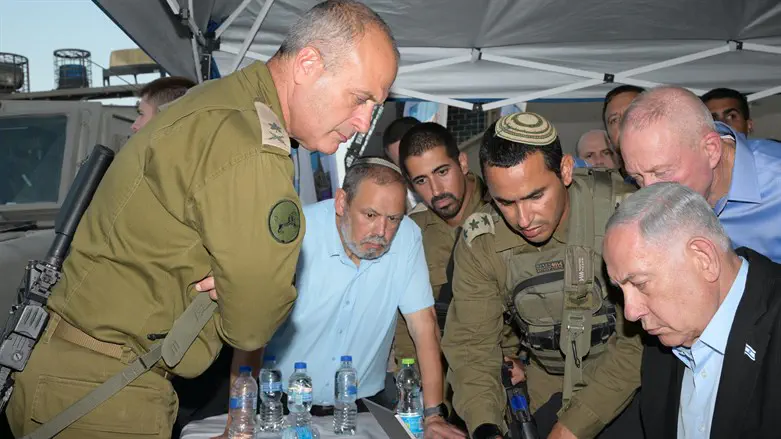 Netanyahu at the scene of the attack
Amos Ben Gershom/GPO
Prime Minister Benjamin Netanyahu and Defense Minister Yoav Gallant held a press conference on Monday evening at the site in the Hebron Hills where, earlier in the day, Batsheva Nigri was murdered in a terrorist shooting attack.
"We are in the midst of a terror offensive which is encouraged, planned, and funded by Iran and her satellites," Netanyahu stated at the scene.
"We are working around the clock to reach the murderers. I wish to give support to all the soldiers and commanders who work day and night to protect the residents and all of us, we all have to support them." Gallant added that "we will find the terrorists and conduct additional actions to ensure the security of the citizens of Israel and to take a toll on the ones responsible for this."
Minister Gallant stated following the attack: "On behalf of Israel's defense establishment, I would like to send my sincere condolences to the families of those who were murdered [in the terror attack that took place today]. It is important to understand the significant change that is taking place on the ground - it is related to Iranian funding and to the proliferation of weapons under the Iranian directive. Iran seeks every means to harm the citizens of Israel. We will reach the terrorists, and we will take additional action in order to ensure the security of Israel's citizens while exacting a price from those responsible for any harm."
Batsheva Nigri, a 40-year-old mother of three from Beit Hagai, was murdered on Monday morning in a shooting attack in the Hebron Hills. Aryeh Gotlieb, a 40-year-old father of six from Beit Hagai, was severely wounded.
Nigri's six-year-old daughter was in the backseat and witnessed the entire attack. Miraculously, the girl escaped unharmed.