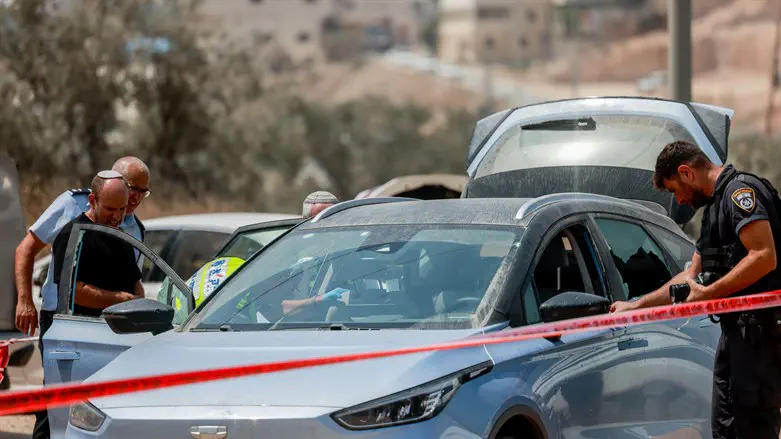 shooting near Hebron
Chaim Goldberg/Flash90
The initial investigation into the deadly shooting attack near Hebron this morning (Monday) in which a 40-year-old woman was murdered and a 39-year-old man was seriously wounded revealed that the shooter's vehicle cut off the victim's vehicle at an intersection. The terrorist then fired over 20 shots at close range.
Security forces believe that the terrorists fled into Hebron through the industrial zone in the southern part of the city.
The murdered woman's six-year-old daughter was in the back seat as the attack unfolded and witnessed her mother's murder. The child miraculously escaped unharmed.
Magen David Adom (MDA) Paramedics Netanel Yamin and Elyashiv Amitai, and MDA Senior EMT Benaya Weinberger, said: "We were very quickly at the scene and joined an IDF medical team that had started treating the victims. We saw a male and female of around 40 years old with gunshot injuries, they were taken out of the car, with the woman unconscious, not breathing and with no pulse with severe gunshot injuries, we provided life-saving treatment and resuscitation, but unfortunately following resuscitation attempts we had to pronounce her deceased."
"The male was semi-conscious with gunshot wounds, we immediately moved him to the MICU and along with an IDF team we evacuated him in serious condition to Soroka Hospital."
Monday's attack comes two days after two men were murdered in another terrorist shooting attack in Huwara.