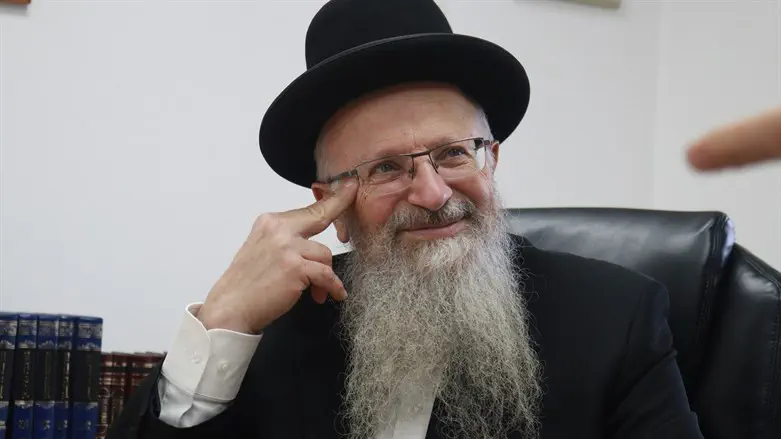 Rabbi Shmuel Eliyahu
courtesy
Rabbi Shmuel Eliyahu referred today (Sunday) to the attack in Huwara in which a father and son were murdered in cold blood and spoke about the way to deal with terrorism and prevent future attacks.
"After the terrible murder of a father and son in cold blood in Huwara, on a central axis where thousands of residents pass every day from dozens of localities - the IDF spokesman issues two announcements: one - what are the Jews doing in Huwara, and the second - that Jews may not avenge the spilled blood. What is the IDF spokesman's problem? What, are you the British Mandate army?" Rabbi Eliyahu asked.
"There were riots by Arabs against Jews a century ago as well. It is said about Rabbi Kook, that following these riots he did not agree to shake hands with the officers of the British army and said: 'The blood of the murdered is on your hands, you did not act to stop it. You should act in an active manner so that it doesn't happen, you know there will be murder, why are you sitting tranquilly?'
"We are not in the era of the British Mandate and the IDF is not a British army. We expect the IDF to act like a Jewish army. 'I have pursued my enemies and overtaken them, never turning back until they were consumed' (Psalm 18 Verse 38). Not to understand them, not to contain them, and nothing else. We expect the IDF to act," Rabbi Eliyahu said.
Aviad Nir, 28, and his father Shai Silas Nigreker, 60, were murdered in a terrorist shooting attack in Huwara on Shabbat yesterday.
"In their lives and in their deaths, they were not separated," Ashdod Mayor Dr. Yehiel Lasry said. "All of Ashdod is mourning this evening, after the Shabbat murder of a father and son, residents of the city, in a horrible shooting attack which stole their lives in such a cruel and criminal fashion."
The investigation has revealed that the shooter arrived on foot at a location on the road where security was not reinforced during Shabbat. The terrorist then entered a car wash, where the pair's vehicle was parked after the two ran errands in Huwara earlier in the day. The terrorist identified the pair as Israelis after hearing them conversing in Hebrew and fired five bullets at them from point-blank range. He then escaped on foot. The murder weapon was later recovered. Sources said that Arabs who saw the two called the terrorist and reported that there were two Jews present.
Israeli Prime Minister Benjamin Netanyahu said in response to the attack, "I send condolences to the family of the two murdered victims, a father and son, whose lives were cut short in such a cruel and criminal fashion over Shabbat. Security forces are working with great energy in order to capture the murderer and bring him to justice, exactly as we have done with all of the murderers until now."
Israeli President Isaac Herzog said, "This was a sad Shabbat, which ended with great pain, after two people, a father and son, were murdered in a horrific terror attack in Huwara. I am sure that the IDF and security forces will lay hands on the despicable murderer. We must not let terror defeat us."
This is the tenth terror attack in Huwara this year. Six of the terror attacks were shooting attacks, two were ramming attacks, and two were stabbing attacks. Four Israelis have been murdered in Huwara in the past eight months, and eight others were injured - two seriously, three moderately, and three lightly.