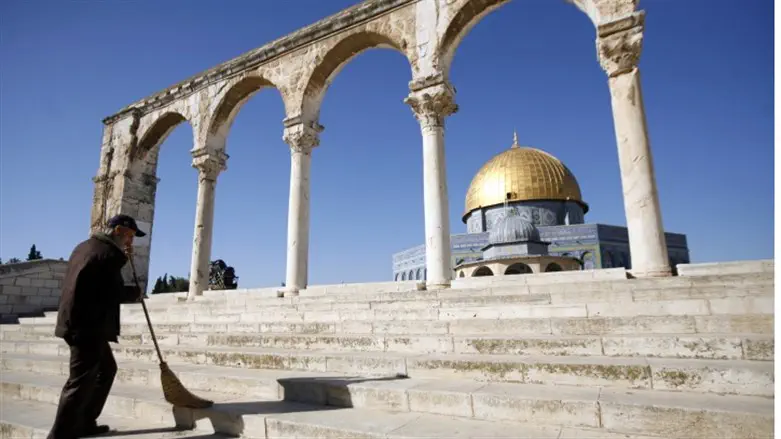 Al Aqsa Mosque, Jerusalem
Flash 90
About 40,000 Muslims participated in the Friday prayer at Al-Aqsa Mosque and the Temple Mount Square, Palestinian Arab sources report.
The Friday sermon was delivered by Sheikh Ikhrama Sabri, the head of the Supreme Islamic Council, who warned against the ongoing damage to the sanctity of Al-Aqsa Mosque.
According to him, Al-Aqsa Mosque "goes up in flames" regularly and in different ways. This statement is intended to recall the attempt to set fire to Al-Aqsa Mosque in 1969 by an Australian tourist, and to illustrate that the danger to the existence of Al-Aqsa Mosque still exists.
The
Palestine Al-Yum
website, which is affiliated with the Islamic Jihad, noted that Sabri emphasized that the Al-Aqsa Mosque, and indeed the entire Temple Mount, belongs to Muslims only and will not be subject to division in use with the Jews, to negotiation or to any concession.
In another context, Sabri said that there is a religious Islamic prohibition to teach the Israeli curriculum in Palestinian Arab schools in East Jerusalem.
He urged parents to monitor their children's curriculum and demand that teachers continue to teach the previous curriculum.
In his sermon, Sheikh Sabri mentioned the Islamic religious ruling of the Higher Islamic Committee in Jerusalem, which ruled regarding the non-recognition of the legitimacy of the "occupation", and did not allow participation in the local elections for the mayor of Jerusalem and the city council.