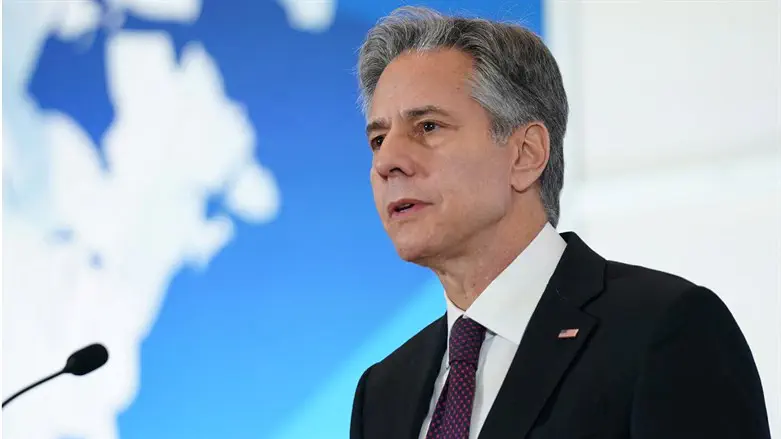 Antony Blinken
REUTERS/Sarah Silbiger
US Secretary of State Antony Blinken met on Thursday with Minister for Strategic Affairs Ron Dermer in Washington, D.C.
In a statement following the meeting, State Department spokesperson Matthew Miller said that Blinken "reaffirmed the United States' enduring friendship and steadfast commitment to Israel's security."
"Secretary Blinken and Minister Dermer discussed cooperation on regional challenges, including threats posed by Iran and its regional proxies in Lebanon and elsewhere. They also discussed ongoing efforts to further Israel's full integration into the Middle East," added Miller.
"The Secretary emphasized the importance of Israel and the Palestinians taking affirmative steps to de-escalate tensions and bolster stability in the West Bank," the statement concluded.
Israeli and US officials told Barak Ravid of Axios late last week that Dermer's visit to Washington will deal with the Biden administration's push for a mega-deal with Saudi Arabia that could include a Saudi-Israel normalization agreement.
Dermer is expected to meet White House National Security adviser Jake Sullivan, as well as President Joe Biden's senior Middle East adviser Brett McGurk and senior adviser for energy Amos Hochstein. The three are the key US officials leading the Saudi Arabia diplomatic push.
A senior White House official said Dermer's trip "is a routine engagement on a broad spectrum of issues."
Last week, The Wall Street Journal reported that the United States and Saudi Arabia have agreed on the broad outlines of a deal for Saudi Arabia to recognize Israel in exchange for concessions to the Palestinian Arabs.
According to the report, the officials expressed cautious optimism that, in the next nine to 12 months, they can straighten out the deal's finer details. But they warn that they face long odds.
Foreign Minister Eli Cohen said last week that a normalization agreement with Saudi Arabia is only a matter of time and is within reach.
"We are at a point in time where the American, Saudi and Israeli interests are coming together - and therefore looking at the report, which spoke of between nine months and a year, is also correct in my eyes. This is exactly the window of time before the US is drawn into an election campaign. And that's why I say that peace with Saudi Arabia is only a matter of time," Cohen told Ynet.