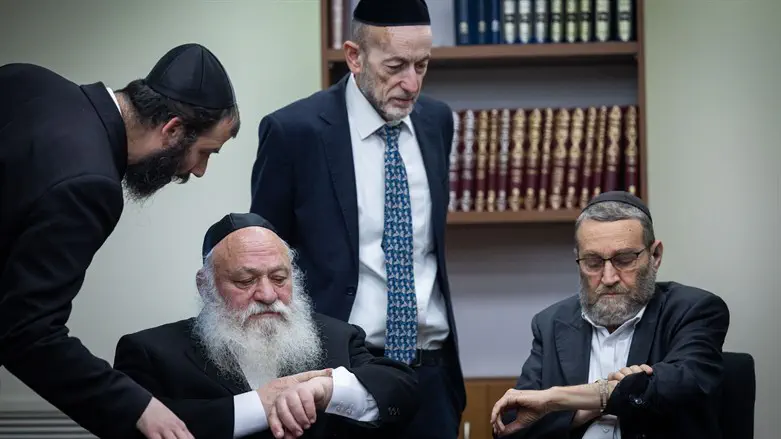 Yitzhak Goldknopf, Uri Maklev and Moshe Gafni
Yonatan Sindel/Flash 90
The representatives of the haredi parties made it clear at a meeting held in the Prime Minister's Office that they will refuse a situation in which the Draft Law would include mandatory service for haredim, even if it were to be done in a civil-national framework, Kan 11 News reported on Thursday.
According to the report, in a meeting attended by representatives from the Ministry of Defense, representatives from the Ministry of Finance, and the Cabinet Secretary, the haredim rejected the idea that they would agree to civil-national service, unless it is voluntary.
The government wants to draft the law in the coming weeks, but there are still quite a few disputes surrounding it. In return for its approval, the defense establishment insists on receiving significant additions to the budget for the IDF that would bridge the exemption that will be given to the haredim from enlisting in the army.
In a discussion held on Wednesday in the Knesset Foreign Affairs and Defense Committee, some of the committee members asked senior IDF officials who were in attendance about the law and its effect on the army.
The senior officials replied, "You are the ones who legislate - we will deal with the consequences. But there is no doubt that there will be damage to cohesion. We want to recruit everyone."