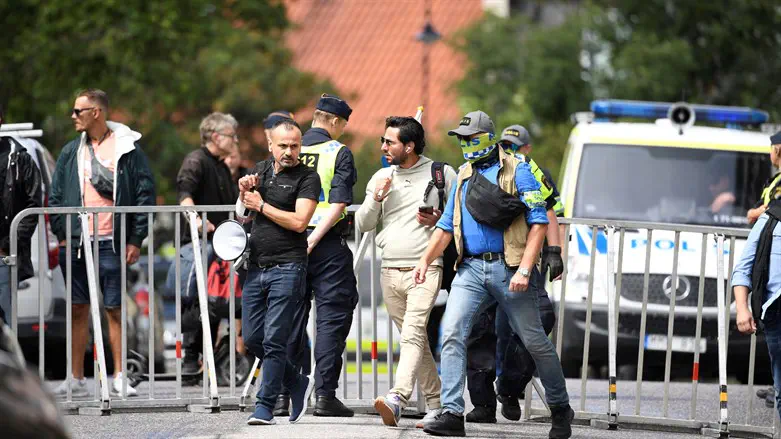 Police in Sweden
Reuters
Sweden on Thursday raised its terrorist alert to the second highest level, saying it had thwarted attacks after Quran burnings and other acts outraged Muslims and triggered threats from jihadists, Reuters reported.
Sweden's SAPO security service raised the terrorist alert from 3 to 4 on a scale from 1-5, reflecting a high threat.
"The decision to raise the level is not prompted by a single event but we know that Hezbollah, Al-Shabaab and al Qaeda have called on their supporters to carry out acts against Sweden," SAPO head Charlotte von Essen told a news conference, as quoted by Reuters.
Prime Minister Ulf Kristersson told a news conference that people had been arrested in Sweden and abroad after planned attacks were detected and stopped.
"I understand that many Swedes feel worried but we must live our lives as usual, we must stand up for our lives and our way of life," he added, without giving details of the plots.
Earlier this week, a senior Swedish official called for Swedes abroad and businesses linked to Sweden to "observe increased vigilance and caution," following the recent Quran burnings.
Henrik Landerholm, Sweden's National Security Adviser, said there are signs of "a heightened threat" to the country and to Swedish interests abroad, adding the security situation has worsened.
Landerholm said there also were "indications" that groups are planning other acts against Swedish interests abroad, citing the storming of Sweden's Embassy in Baghdad last month and an attempted attack on the diplomatic mission in Beirut last week.
Sweden recently said it was examining legal and legislative possibilities to ensure a ban on the desecration of holy books throughout the country.
Public Quran desecrations in neighboring Denmark have also angered Muslim countries.
Denmark's Foreign Minister Lars Løkke Rasmussen recently said the government will seek to make it illegal to desecrate the Quran or other religious holy books in front of foreign embassies.