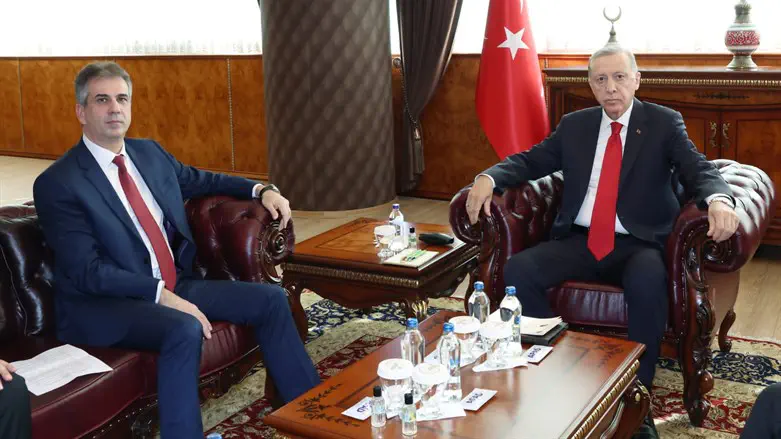 Minister Cohen with Turkish President Erdoganן
Photo: Presidential Palace in Turkey
An Israeli man who was sentenced to ten years in prison in Turkey for smuggling khat is expected to be released over the weekend and returned to Israel following the intervention of President Isaac Herzog and Foreign Minister Eli Cohen.
Danny Aweke's case was brought to the attention of Turkey's new Foreign Minister, Hakan Fidan, in recent weeks thanks to a letter from Minister Cohen.
Significant progress has been made in the last few weeks thanks to the warming relations between Turkey and Israel. As a result, Aweke is expected to be released in the coming days after five years in prison.
Minister Cohen said, "This is another proof of the supreme efforts that the Foreign Ministry makes on behalf of the citizens of Israel. This is a humanitarian and sensitive case and I thank President Isaac Herzog for the joint work and my colleague, Turkish Foreign Minister Fidan, for understanding the urgent need to promote the release of Danny Aweke."
"The warming relations between Israel and Turkey contributed a lot to advancing the issue until the happy end. I wish for Danny to return to Israel and embrace his family after these difficult years," he concluded.