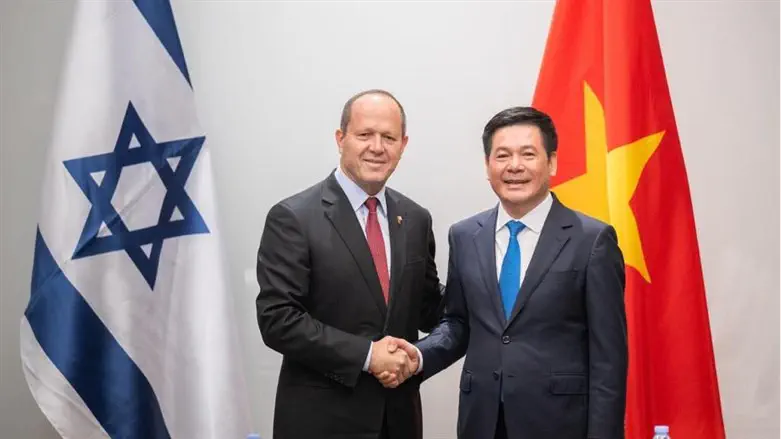 Nir Barkat with Nguyen Hong Dien
Economy Minister's communications
Economy Minister Nir Barkat (Likud) has embarked on a historic visit to Vietnam, heading a diplomatic-economic delegation, as part of the economic agreement signed between the two countries.
On Wednesday morning, Barkat met with Vietnamese Trade and Industry Minister Nguyen Hong Dien in Hanoi, Vietnam, and the two agreed to open a direct flight route connecting Ben Gurion International Airport with Hanoi, at the beginning of October.
It was also agreed that the requirement for Israelis to arrive at the Vietnam Embassy prior to flying in order to receive a print visa would be canceled, and electronic visas would be used instead. The change takes effect on Wednesday.
"We announce this morning an important historic achievement," Barkat said. "During my visit to Vietnam, I agreed with the Vietnamese government that we will begin direct flights from Ben Gurion to Hanoi, for the first time in history. In addition, we agreed to cancel the requirement to receive a visa at the Embassy prior to flying to Vietnam, and in its place, an electronic visa will make things easier for Israeli citizens. This process takes effect today."
"These are are extremely significant achievements which will allow us to increase trade and business deals between the two countries."
He added, "Vietnam is our gate to Asia, and it is becoming a key and powerful country. Tightening and strengthening relations between us is important both to Israel and to Vietnam."