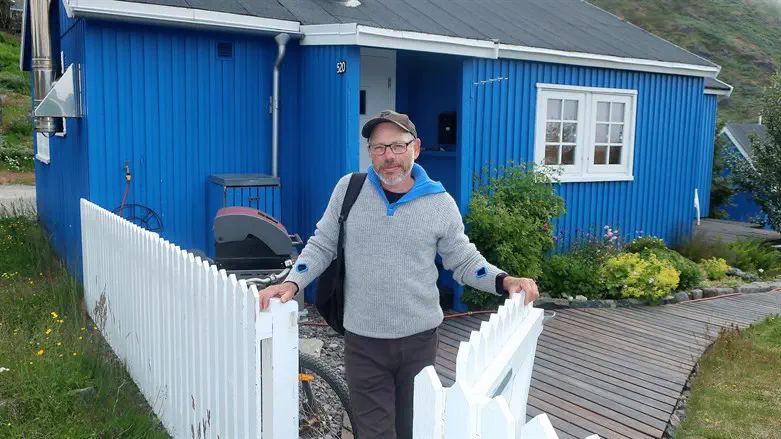 Paul Cohen at his home in Narsaq, Greenland.
Dan Fellner
This picturesque village on the southwestern coast of Greenland where famed Viking Erik the Red first arrived more than 1,000 years ago is about as off-the-beaten-path as one can get.
Sheep outnumber the town's population 20-1 and the only way to reach an airport is via helicopter or ship.
Yet for Paul Cohen, an American Jew who has lived here with his wife Monika for 22 years, Narsaq's remoteness is more than offset by its stunning landscapes, clean air and laidback lifestyle.
"It's the Garden of Eden in many ways," said Cohen, who is 61. "I feel like I'm living in the heart of a national park. There's this little spot of civilization surrounded by pristine wilderness and I have the unique privilege of being able to live and work here."
Greenland, a semi-autonomous territory of the Kingdom of Denmark, is the world's largest island. Located between the Arctic and North Atlantic oceans, it's three times the size of Texas. But its population is only 56,000, most of whom are Inuit, making Greenland the least densely populated territory in the world. About 80% of the island's surface is covered by an ice sheet.
The story of how Cohen ended up living in Greenland — as likely the territory's only resident Jew — has nearly as many undulations as the icebergs floating in nearby Tunulliarfik Fjord.
Describing himself as "non-observant but culturally Jewish," Cohen grew up in Wisconsin and graduated with a degree in French from the University of Wisconsin-Madison. In 1991, he moved to Germany, where he met Monika. The two have been married 32 years and live alone in Narsaq with their Japanese Spitz dog they named Mikisoq ("little one" in Greenlandic).
Fluent in four languages — English, German, French and Danish — Cohen worked for nearly a decade as a translator and producer at DW-TV in Berlin. He and Monika first visited Greenland in 1993 as tourists.
"I was just blown away by the warmth of the sun," he said. "Endless summer days. We were just amazed at what we saw, but we had it in our heads that it was a once-in-a-lifetime experience. We thought we'd never come back."
They did come back three years later and decided then that it was a place that they wanted to spend the rest of their lives, despite the skepticism of their friends and family.
"I think they thought it was some sort of phase," Cohen recalled. "They didn't think it would work out. It's so off-the-charts in terms of a place to live."
They bought a "fixer-upper" house and returned in subsequent years to renovate it before making a permanent move to Narsaq in 2001.
"You could say that Greenland infected us, like a virus, and we simply couldn't get it out of our system," Cohen said. "Why fight it?"
Initially, the plan was for Cohen to work remotely as a translator. However, the internet in Narsaq at the time was "glacial in terms of its speed," so the couple made a living painting houses instead.
As internet speed improved, Cohen started to get more translating projects. He formed a business called Tuluttut Translations (tuluttut is the Greenlandic word for "English"). On a website for translators to promote their services, he jokingly wrote that he "will work for blubber."
"What was unique about me as a translator was that I was the only translator people knew who lived in Greenland," he says. "I just thought it would make a fun tongue-in-cheek tagline."
Cohen has translated hundreds of articles from German to English for the English website of the news publication Der Spiegel as well as numerous academic books, including a 2014 book by German professor Marc Buggeln titled "Slave Labor in Nazi Concentration Camps," published by Oxford University Press. Most of his translation work is German to English, but increasingly Danish to English.
Additionally, Cohen and his wife run a business in Narsaq renting properties to travelers. The couple currently owns two summer cottages that can sleep a total of eight people. They do most of the renovations and repairs themselves.
When asked if he misses any of the creature comforts he took for granted in the United States and Western Europe, he pondered for a few seconds before saying he has pretty much everything in Narsaq he wants, other than some of his favorite fruits and vegetables —such as eggplant — that can be hard to come by at the local supermarket.
Perhaps his biggest challenge is getting home to visit his 85-year-old mother in Wisconsin, which he manages to do every couple of years. But it's an arduous journey, involving either a helicopter ride or ferry trip from Narsaq to the nearest airport in Narsarsuaq, about 30 miles away — since there are no roads in Greenland that connect towns and settlements.
From Narsarsuaq, Cohen flies to Iceland or Denmark as there are no flights from anywhere in Greenland to North America. Due to flight delays and bad weather, his last trip home from Wisconsin in February took 12 days.
Narsaq's economy is built on sheep farming and fishing. There is some tourism but the number of visitors is low compared to some other towns in western Greenland like Nuuk, Illulissat and Qaqortoqall, all of which attract more cruise ships. While Narsaq's population is only about 1,300, that still makes it Greenland's ninth-largest town.
As for Cohen's neighbors, most of whom live in pastel-colored wooden homes that are a trademark of Greenland, he said he enjoys their go-with-the-flow outlook on life.
"You can generally just drop by and visit people without calling ahead of time and making some kind of arrangement," he said. "That makes life more spontaneous."
There has never been an organized Jewish community in Greenland, other than the U.S. military base at Thule in far northwestern Greenland. Vilhjálmur Örn Vilhjálmsson, an Icelandic-born historian and former senior researcher at the Danish Center for Holocaust and Genocide Studies, wrote a chapter about Jewish life in Greenland in the 2019 book "Antisemitism in the North" that originally appeared in a Danish journal called Rambam.
Vilhjálmsson writes that "there were certainly Jews among the first Dutch whalers in the 16th and 17th centuries." But there were no definitive reports of Jewish life in Greenland until World War II, when the United States established a military base in Thule, which is just 950 miles from the North Pole.
In the 1950s, there were more than 50 Jewish servicemen stationed in Thule at one time. Passover seders and services were held for Shabbat and high holidays, at the time giving Greenland the distinction, Vilhjálmsson writes, of "having the northernmost minyan in the world."
But in the rest of Greenland, there are no records of any Jewish services or events. There have been Jewish scientists, journalists, nurses and other professionals working in the territory but most were on short-term assignments.
In the absence of definitive records, it's highly likely that Cohen has made history as the Jewish person with the longest continuous tenure living in Greenland — 22 years and counting. He chuckled at the notion, saying it makes him feel like "some sort of rare orchid on the tundra."
"I like the idea," he said. "There are very few Americans living here. So I'm used to feeling like the oddball."
Cohen says few Jewish tourists come to Narsaq, but when they do visit, they have a way of finding him. One observant Israeli couple whom he ate dinner with served food on paper plates with plastic cutlery, which they used in lieu of kosher dishes.
"My name just screams 'Judaism,'" Cohen said. "It's almost as if there's an unspoken secret handshake."
While Cohen isn't religious, he has a silver mezuzah hanging in his Narsaq home and enjoys late-night Hanukkah candle-lighting Zoom sessions with his family back in America.
He said that he and Monika plan to live the rest of the remainder of their lives in Narsaq, health permitting. For now, the couple has no desire to leave behind the solitude and unspoiled magnificence of Greenland's southwest coast.
"Sometimes the ice recedes a bit and you find yourself walking on land that hasn't been exposed for thousands of years," he said. "There are days when I feel not only like I'm the only Jew in Greenland, but maybe the last person on Earth."
The town of Narsaq, located on the southwestern coast of Greenland
Dan Fellner