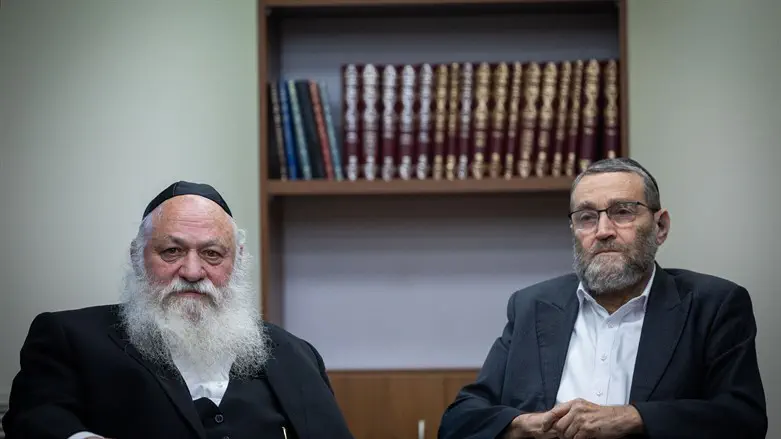 Goldknopf and Gafni
Yonatan Sindel/Flash 90
A senior minister in the government, in a conversation with Israel National News on Tuesday evening, expressed great concern regarding the unwillingness on the part of the haredi parties to reach compromises regarding the Draff Law.
"The Draft Law is quite a serious incident. It can bring down the government if there is no flexibility on the part of the haredim," said the minister.
The comments came after senior members of the United Torah Judaism Party said that "Netanyahu and Levin's original sin was that they ignored the haredi demand to pass the Draft Law together with the Ben Gvir and Deri laws before the formation of the government. If Netanyahu had accepted that demand in the past - we would now be after the whole saga."
Earlier on Tuesday, Channel 12 News reported that the leaders of the haredi political parties have demanded that Prime Minister Benjamin Netanyahu freeze all legislation related to the judicial reform and only pursue legislation that a consensus can be reached on.
The leaders of the haredi parties have come to understand that the judicial reform legislation does not help the haredi community and has in fact led to a backlash against haredim in Israel, the report said.
The opposition to the continued attempts to advance the legislation comes as the haredi parties are pushing for the advancement of a new Draft Law to enshrine the exemptions from military service for haredi yeshiva students in law.
Defense Minister Yoav Gallant and senior IDF officials made it clear to haredi MKs that it is not possible at this stage to pass the legislation they seek.
Gallant made it clear to Shas chairman Aryeh Deri and the adviser to United Torah Judaism chairman Yitzhak Goldknopf that the Draft law could not be signed into law while the country remains in turmoil over the judicial reforms and the IDF is dealing with refusals to serve among pilots and reservists.
In light of Gallant's explanations, the haredi parties are demanding that the judicial reforms be frozen to allow for dialogue and have pledged to vote against any unilateral legislation tabled by Justice Minister Yariv Levin.